The list of Eagle Country 99.3's top local news stories of 2018 includes both inspiring and upsetting moments in southeastern Indiana.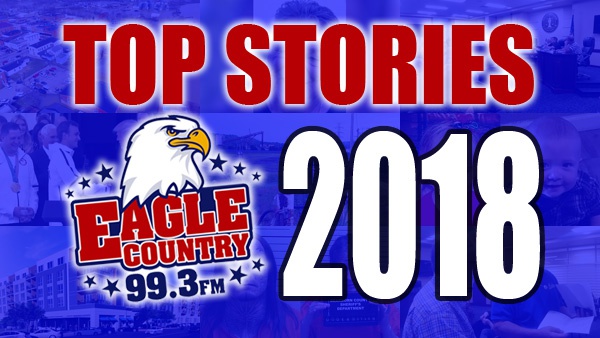 Join us in taking a walk down memory lane and reflecting on the year that was.
Eagle Country 99.3 News is recapping the biggest news stories of 2018. Our news staff led by Mike Perleberg and Travis Thayer have ranked the top 10 local news stories of this year, with a few stories receiving an honorable mention. The rankings are based on each story's magnitude, how long it remained in the headlines, and how popular respective articles were on the radio station's website.
Weigh in with your thoughts on our top ten news stories and the rankings on our Facebook page, or e-mail news@eaglecountryonline.com.
1. Aurora man and his girlfriend accused of murdering his mother and grandfather

Cody Wayne Booth (left) and Margie Thompson. Photos by Dearborn County Sheriff's Department.
Some murders are motivated by love, greed, or anger. On occasion, they are completely senseless. The murders of Faith Craig and her father, Walter Bryant, Jr. fit the latter description.
In January, Cody Wayne Booth along his girlfriend, Margie Lynn Thompson, were charged with the murders at Bryant and Craig's Douglas Drive home in Aurora. Investigators say Booth and Thompson murdered his mother and grandfather who had taken them in because the couple were "dope sick" and were desperate for money to buy drugs.
Prosecutors say Craig had been held in a chair by Booth as Thompson stabbed her repeatedly with a knife. Afterward, Booth pushed Bryant down a flight of basement stairs. As he moaned in pain, the two addicts fatally stabbed him, according to court documents. They then stole money and valuables, including Bryant's Purple Hearts from his military service, and went to buy drugs.
They were arrested in southern Kentucky the day after the bodies were discovered. Many friends and fellow veterans of Bryant's attended the accused killers' initial court hearings.
"It was tough, it was tough to sit there and look at him knowing what he had done," P.G. Gentrup said following Booth's court appearance in June after his extradition from Kentucky. "You saw love and respect and the support from all the people that were in there today for Walt. It wasn't anything about Cody, it was all about Walt. Walt was a United States Army Veteran, a Vietnam Veteran, highly decorated. When you look at Walt, you think of the words duty, honor, country, that's what he stood for."
Both Booth and Thompson remain in jail without bond at the Dearborn County Law Enforcement Center awaiting trial for murder, burglary and robbery. Their joint trial is currently scheduled to begin March 4, 2019.
2. The Ohio River flood of 2018

The Ohio River allowed for kayakers to take to the submerged streets in downtown Aurora.
Not since 1997 had the Ohio River risen to the level it did this past February and March. Torrential rains in February caused the river to crest just over 60 feet at Cincinnati as it spilled over its banks.
Numerous properties in downtown Aurora were flooded. State Road 156 was closed. South Dearborn Community Schools had to close as the State Road 350 bridge was feared to be damaged by the high water.
Indiana Governor Eric Holcomb toured the flood damage in Aurora and other communities along the river. He requested a federal disaster declaration for 28 counties, including Dearborn, Ohio and Switzerland.
The flooding also impacted business at local riverboat casinos. Rising Star Casino in Rising Sun and Belterra Casino in Switzerland County were each forced to shut down for several days, leading to a decline in visitors and revenues.
As the river retreated, volunteers descended upon Aurora to help the city and private property owners in cleaning up. Flood-impacted residents were able to apply to FEMA for recovery assistance not covered by insurance.
3. Piled up at Tanners Creek for years, fly ash situation creates local health concerns

The Tanners Creek Power Plant in Lawrenceburg opened in 1951 and burned millions of tons of coal until it was shut down in May of 2015. As is the case at many coal-fired power plants across the U.S., the coal combustion residuals known as fly ash and boiler slag were stored on-site. As more has become known on fly ash's harmful impacts on drinking water sources, citizens and governments are increasingly concerned.
The power plant site is being remediated by Commercial Development Company subsidiary Tanners Creek Development LLC in hopes that it may one day become home of Indiana's fourth inland port. Part of that process has been closing the fly ash storage ponds and landfills on the 725-acre site. Tanners Creek Development caught the ire of local governments in March when it attempted to receive approval from the Indiana Department of Environmental Management to ship fly ash from out-of-state power plants to complete filling the ash storage areas. Following meetings with local leaders and letters from citizens, IDEM would later deny the permit modification which would have allowed that.
In July, four Indiana environmental organizations released a report about the fly ash dangers at Tanners Creek. This past fall, IDEM inspections found large amounts of ash and boiler slag stored in unpermitted areas of the property.
Closure of the fly ash ponds is still pending approval from IDEM, but is among many cases across the U.S. held up by a federal court decision requiring the Environmental Protection Agency to revise its rules to properly address environmental and human health threats posed by fly ash storage sites.
4. Hidden Valley man's murder remains unsolved

Tom Biedenharn was a grandfather and kind soul who lived alone on Highridge Court in Hidden Valley. A shock was sent through the community when it was revealed that the 73-year-old was found murdered in his home on Memorial Day, May 28.
Seven months later, there have been no arrest or suspects publicly identified. Indiana State Police investigators say they are still following up on leads in the case every day.
"This was not something that we ever imagined would happen to our family, and further, we never imagined this nightmare continuing six months later," a member of Biedenharn's family told Eagle Country 99.3 earlier this month.
Tom Biedenharn's family is offering a $50,000 reward for information leading to an arrest and conviction of the killer, or killers. Tips can be called into the Indiana State Police Versailles Post at (812) 689-5000. You can remain anonymous.
5. Dearborn County Council passes income tax increase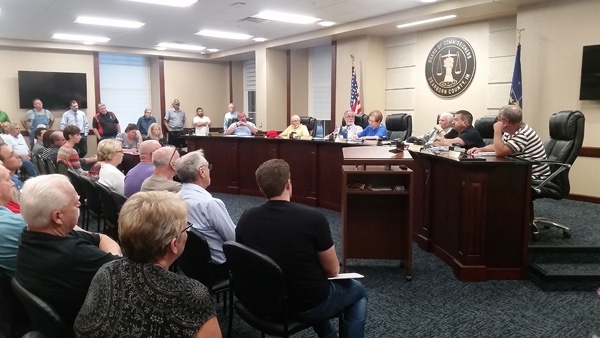 People who earn a paycheck in Dearborn County will notice a few more dollars taken out for taxes starting in 2019. During a packed public hearing in September, county council voted 5-2 to double the county's local option income tax from 0.6 percent to 1.2 percent. Council members supporting the increase agreed the county had "kicked the can down the road" long enough by relying on riverboat revenue to fund county operations in years past, however, those casino gaming revenues have fallen drastically over the past 10 years.
According to our September report on the income tax increase, a 0.4 percent portion of the increased income tax will raise $5.39 million annually for public safety. That amount will be split between the county and municipalities such as Greendale, Lawrenceburg, Aurora, and Dillsboro to help fund law enforcement agencies and other safety services.
$2.69 million annually for the 0.2 percent correctional and rehabilitation portion of the increase will all go toward services at the Dearborn County Law Enforcement Center and Dearborn County Juvenile Detention Center.
New revenue will also allow any continuing riverboat revenue to be saved in the county's "rainy day" fund and be put toward road improvements.
6. Nick Goepper wins silver medal at the Winter Olympics

Local skier Nick Goepper claimed a silver medal in PyeongChang in February. Photo by Sarah Brunson, U.S. Ski & Snowboard.
In his first Winter Olympics in Sochi, Russia in 2014, Hidden Valley Lake native Nick Goepper earned a bronze medal as part of a U.S.A. sweep in men's ski slopestyle. The 23-year-old reappeared at the winter games in South Korea last February and upped his career medal count to two with a silver medal. After posting low scores in his first two runs in the finals, he threw down an epic third and final run to win silver. His 93.60 score was just short of Norwegian gold medalist Oystein Braaten's 95.00.
Goepper would return to his childhood ski area, Perfect North Slopes, in March to be honored by the community. "I gotta tell ya, the silver medal is a little sweeter than the bronze medal," Goepper told the crowd.
7. Older brother accused of murdering two toddlers

Two Osgood siblings, 23-month-old Desiree McCartney and 11-month-old Nathaniel Ritz, died only 81 days apart in May and July of 2017. This past September, Ripley County Prosecutor Ric Hertel announced that their older brother, 14-year-old Nickalas Kedrowitz, would be charged with their murders. Kedrowitz was the last person to be alone with the toddlers before their deaths, and later allegedly admitted to fatally smothering his brother and sister with a towel or blanket. He is currently awaiting trial in juvenile detention.
Earlier this month, Kedrowitz's mother, Christina, went on the nationally-televised Dr. Phil talk show to discuss the case. She claimed she was aware her son had a mild intellectual disability, but that he didn't have any behavioral problems or red flags.
8. City of Lawrenceburg continues downtown redevelopment with two big projects

City leaders break ground on a new civic park in downtown Lawrenceburg.
The City of Lawrenceburg broke ground on one major downtown revitalization project in May, then approved funding for another in August.
Construction is ongoing for the $6 million Lawrenceburg Civic Park at the corners of High and Short streets. Expected to open next spring or summer, it will include a lawn, stage, splash pad, restrooms, and more. It is also expected to host a number of public and private events, including Lawrenceburg Main Street's popular Music on the River free concert series. Currently, the Lawrenceburg Redevelopment Commission is considering proposals for properties surrounding the new park.
The park could be a place for residents of a new downtown apartment building to enjoy. The city is partnering with Indianapolis-based developer Flaherty & Collins to construct a new $30 million, 150-unit apartment building on the Ohio River levee on West High Street. In August, Lawrenceburg Common Council had some heated discussion before voting 3-2 to use a combination of cash and TIF district monies to pay the city's $15 million share. The city still has to approve designs for the apartment project before ground can be broken.
9. Southeastern Indiana resists the "Blue Wave" in November elections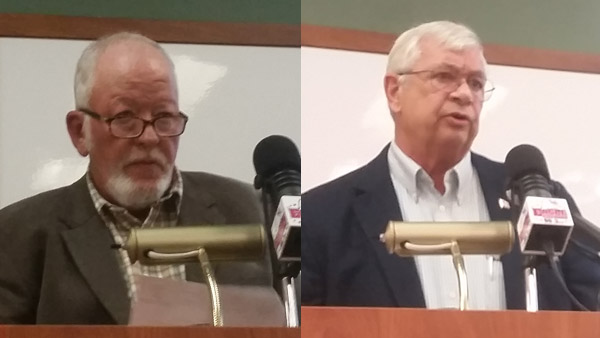 Republican Rick Probst (right) defeated independent candidate Glenn Wright in the race for Dearborn County Commissioner on November 6.
If you had "Republican" next to your name on a ballot in our region on Election Day, November 6, it was almost a guaranteed victory. Republicans swept races for county offices in Dearborn, Franklin, Ohio, Ripley and Switzerland counties. In Dearborn County, voters elected a new sheriff in County Commissioner Shane McHenry, a prosecutor's office investigator emerged from a competitive May Republican primary election against deputy Brad Schwing. Boards of commissioners, county councils, and courts are also remained stacked for the GOP locally.
In statewide races, Hoosier voters helped Republicans maintain control of the U.S. Senate by electing businessman and former state representative Mike Braun over incumbent Democratic Senator Joe Donnelly. The GOP also maintained supermajorities in the Indiana House and Senate, thanks in part to the re-elections of local state reps Randy Frye, Randy Lyness, and Cindy Zeimke, as well as senators Chip Perfect, Jeff Raatz, and Jean Leising.
10. St. Mary's prayer answered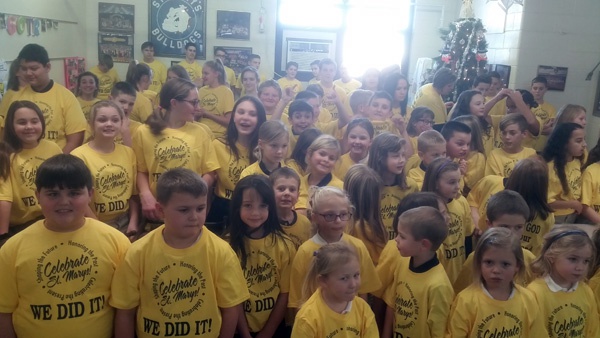 Children at St. Mary's School in Aurora celebrate reaching a huge fundraising goal which will keep the school open.
St. Mary's Catholic School in Aurora revealed in October that it was given an ultimatum from the Archdiocese of Indianapolis: raise $400,000 by the end of the year or close at the end of this school year. With a drastic decline in enrollment in recent years, the school was borrowing money from the archdiocese just to make payroll. Thanks to hundreds of donors large and small, the school reached its $400,000 goal earlier this month.
Principal Bob Brookbank says the school is now looking at combining classes, more efforts to boost enrollment, and other measures to keep the school financially viable and open for years to come.
Other major 2018 news stories worthy of a mention: