Citizens came out to air their grievances to Dearborn County Council just before Wednesday's vote to pass the tax increase.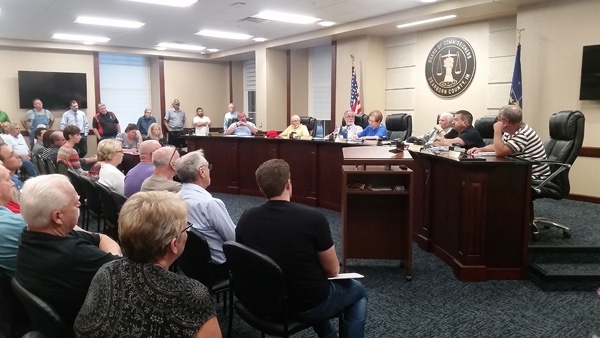 Roughly 50 people packed into the Henry Dearborn Meeting Room as Dearborn County Council passed an income tax increase Wednesday, September 26. Photo by Mike Perleberg, Eagle Country 99.3.
(Dearborn County, Ind.) – People who work in Dearborn County will see a little bit more tax skimmed off their paychecks, but it will help county government stave off any further cuts.
On Wednesday, Dearborn County Council voted 5-2 to raise the county income tax from 0.6 percent to 1.2 percent of every paycheck – the first increase in that rate in more than three decades. Council members voting for the increase included Liz Morris, Dennis Kraus, Bill Ullrich, Allen Goodman and Ryan Brandt.
"We've kicked the can down the road about as far as we could get," Ullrich remarked before about 50 people filling the room at the Dearborn County Government Center.
The dissenting votes came from Charlie Keyes and the only Democratic county office holder, Dan Lansing.
"I knew this day was coming. I knew two or three years ago," Lansing said.
Declining riverboat revenue coming to the county is cited as the major reason the tax increase is needed to keep the county from cutting any more from its $19 million 2019 budget.
The county has been using riverboat revenue to supplement its budget, but the amount of gaming revenue has dwindled from $14.5 million in 2014 to less than $10 million in 2017 as other casinos have been added in the tri-state. A quarter of that gaming revenue is shared with the county's municipalities.
A 0.4 percent portion of the increased income tax will raise $5.39 million annually for public safety, based on 2018 estimates from Umbaugh & Associates, the county's financial advisor. That amount will be split between the county and municipalities such as Greendale, Lawrenceburg, Aurora, and Dillsboro to help fund law enforcement agencies and other safety services.
$2.69 million annually for the 0.2 percent correctional and rehabilitation portion of the increase will all go toward services at the Dearborn County Law Enforcement Center and Dearborn County Juvenile Detention Center.
That new revenue will also allow any continuing riverboat revenue to be saved in the county's "rainy day" fund and be put toward road improvements.
"There are 500 miles of county roads in this county, almost all paved. Maintaining that costs a lot," said Ullrich.
Kraus added that there are 21 bridges in Dearborn County in need of replacement. The worst 10 of those alone would cost $8.3 million to reconstruct.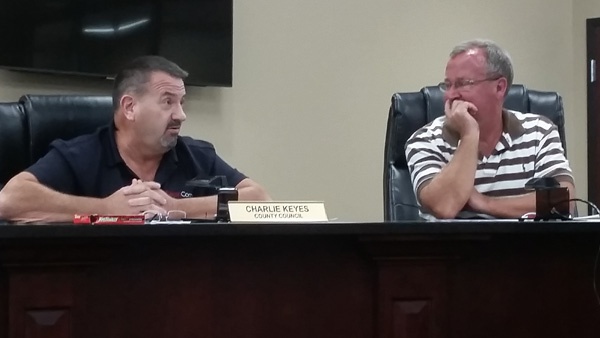 Council members Charlie Keyes, a Republican, and Dan Lansing, a Democrat, voted against the local income tax increase. Photo by Mike Perleberg, Eagle Country 99.3.
By doubling the local option income tax, somebody working in Dearborn County making the county's median household income of $60,834 would go from paying $365 up to $730 out of their paychecks annually. On somebody making the county's per capita income of $28,471, the tax would increase from about $170 up to about $342 each year.
With the increase, Dearborn County will go from having the fourth-lowest income tax rate among Indiana's 92 counties to having the 20th-lowest.
Ullrich called the need for the tax increase now bad timing. Many county property owners have seen dramatic increases in their property value assessments this year, which will mean more being paid in property taxes next year, too.
"It's unfortunate everything came down at the same time," Ullrich said.
Citizens make their feelings known
A handful of people spoke out against the income tax increase. Patrick Holland accused council of mismanaging county funds. Craig Beckley, director of the Heart House, said he though gaming revenue was only to ever be used to benefit children.
"We would have had money to pay for all this if we had money pay for libraries, instead of dump trucks and police cruisers," Beckley.
In Indiana, most libraries are their own taxing units with their own revenue streams.
Ginnie Faller, local business advisor for the Southeast Small Business Development Center, posed a number of questions about the increase to council.
"This to me was a really huge surprise. It wasn't because I wasn't paying attention," she said, voicing a worry that council may later vote to double the local income tax again to the maximum 2.5 percent allowed by state law.
Ullrich and Brandt said they would not support another tax increase as long as they are on council.
Carl Stokeman said council has already made the easy cuts, and now it's time to start thinking about harder cuts. He said public employees get better health insurance benefits than he could ever dream of working in the private sector.
Donna Thacker, the recently retired director of Dearborn County Citizens Against Substance Abuse, was critical that council ever voted to spend $11 million of the county's riverboat savings on constructing the new courthouse annex.
"We could have done without this. We didn't need this. Space was tight, but so what," Thacker said. "This is all on every one of you."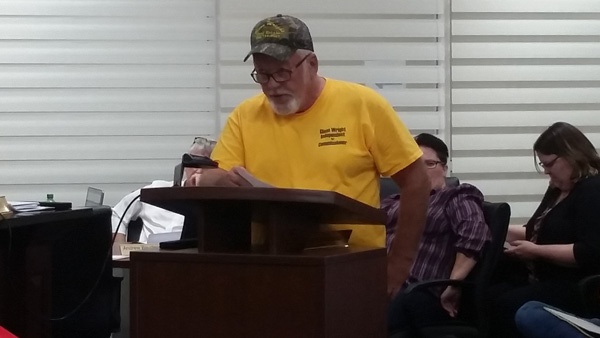 Dearborn County Commissioner candidate Glenn Wright addresses council prior to the vote. Photo by Mike Perleberg, Eagle Country 99.3.
A man running for county office also spoke. Glenn Wright, an independent candidate for Dearborn County Commissioner, said a prediction that the welcoming of riverboat gaming in Dearborn County would eventually lead to higher taxes and fewer services is coming true.
"You folks are the protectors of the purse strings. The taxpayers in our county are now expected to pay the price," Wright lamented.
City of Greendale Clerk-Treasurer Joey Lynch explained how the income tax increase will benefit her city. Due to property tax caps put in place by state lawmakers nearly a decade ago, Greendale will lose $511,000 in revenue this year. The city's share of the 0.4 percent public safety portion of the income tax increase may allow the city to maintain services, she explained.
"I commend the board for making this tough decision," she said.
Point-by-point, councilman details need for tax increase
At times becoming emotional, outgoing councilman Ryan Brandt explained his support of the tax increase. He systematically addressed each citizen's points with his own counterpoints.
"I can tell you 1.2 percent will get us where we need to be to balance our budget," the career law enforcement officer said.
"We need police officers. We need fire. We need EMS. Who pays for that? The taxpayers. Who has paid for it the last 20 years? The riverboat. The riverboat money is just not there anymore."
Addressing Stokeman's criticism, Brandt argued that employee salaries are generally higher in the public sector. In recent years, he pointed out, the county has been utilizing part-time employees who don't receive any benefits in order to help the county run efficiently and effectively.
Brandt seemed puzzled with the assertion from Thacker, the former CASA director, that the tax increase is not needed. The 0.2 percent correctional and rehabilitation portion of the increase will help continue the Jail Chemical Addiction Program at the county jail.
"Here not too long ago there was a big cry in this community: 'We need more stuff in our jail. We need more programs. We need more treatment. We need more stuff for drug addicts,'" Brandt said.
"Those are 100 percent county-funded. Our JCAP program our judges have put into place – I see people come out of there all the time and become very successful members of our communities. Mrs. Thacker can admit that."
Brandt addressed Wright by contending that the same level of services were not offered by the county 20 years ago before riverboat gaming.
"Our population 20 years ago wasn't what it is. Our roads aren't what they were. It takes money to run this county," Brandt countered.
Many citizens have been critical of the need for an expanded courthouse. Brandt said he is a firm believe the courthouse was needed, otherwise it would have been mandated and cost significantly more than $11 million. He also believes the county was right to pay cash out of its riverboat savings three years ago to pay for the courthouse annex, as borrowing would have added $7 million to the cost while only buying the county little more time before a tax increase was needed anyway.
"That would have only lasted two more years. Two," Brandt said of the last major capital project the county will likely take on for many years. "Had we not paid for this place, I could see this (tax increase) going to 2.5 percent in two years. This place is paid for. We owe nothing on this building and nothing on that jail."
RELATED ITEMS:
Dearborn Co. Tax Increase Could Be Voted On Wednesday
Income Tax Increase On The Table For Dearborn County Council
Dearborn Co. Assessor Explains Large Property Assessment Increases
Dearborn Co. Sheriff Asks For Better Pensions As Council Makes Budget Cuts
House Passes Bill To Codify Dearborn County Riverboat Revenue Sharing
Council Members Voice Desire To Continue Sharing Riverboat Funds, But No Solution Yet