Dearborn County's current and future sheriffs want the county to offer a 32 year pension for deputies.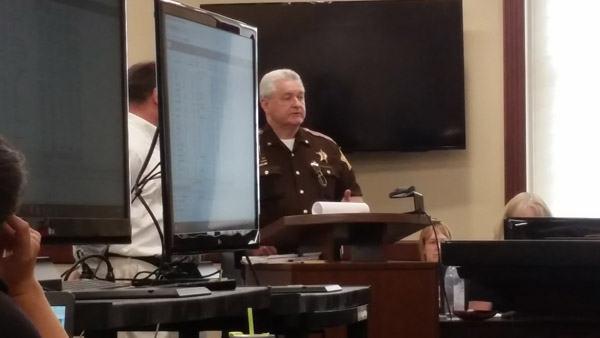 Dearborn County Sheriff Mike Kreinhop addresses Dearborn County Council on Wednesday, August 15. Photo by Mike Perleberg, Eagle Country 99.3.
(Dearborn County, Ind.) - Dearborn County's current and future sheriffs want to be able to offer deputies a better pension.
But at the same time, Dearborn County Council is looking to cut $2 million from the county's 2019 budget. This week, the council is holding its annual budget meetings.
Sheriff Mike Kreinhop and sheriff-elect Shane McHenry approached council Wednesday, asking the board to provide funding to increase sheriff's deputies pensions from 20 years up to 32 years. Employees who serve 32 years would receive pension payouts of 75 percent of their top five earning years as an employee of the sheriff's department. Payouts are currently 50 percent.
Kreinhop said a better pension will allow Dearborn County to compete for officers with other agencies and make it easier to retain its current deputies.
"We're not keeping up with the Joneses," Kreinhop said, explaining that other area counties and some police departments offer better pensions.
He said he did not want to see the Dearborn County Sheriff's Department become a training facility "like Ohio County," where he said there is a revolving door of deputies. The county would be better to have well-trained, experienced deputies on patrol because it will lead to fewer problems.
The sheriff laid out ways to pay for the increased pension. Employee contributions would be doubled. The county jail could be configured to allow it to accept more inmates from other counties.
Kreinhop also spoke about a potential bill in the state legislature next year which could see the state per diem paid to jails increased from $35 per Indiana Department of Corrections inmate up to $50. Currently, the county jail houses about 60 DOC inmates.
McHenry, the Republican candidate for sheriff unopposed in the November 2018 election, said he is trying to recruit officers to come to the sheriff's department. McHenry shared that one prospect told him he would certainly come aboard if the county offered a 32 year pension.
"It's getting tougher and tougher and tougher to get quality people who want to do this job," McHenry said. "I want to have better people that want to stay and retire here."
Council members agreed that a better pension is deserved, but the county's financial reality at this time presents a challenge. Alan Goodman said the county is already going to be underfunding medical benefits in 2019.
Dan Lansing, the lone Democrat on the county council, observed that if deputies stay with the sheriff's department beyond 20 years, that is time the county won't have to pay out their pension. In the 12 years difference of the current and proposed pension plans, retired employees could be drawing over $300,000.
"We could be paying them for working than not working," said Lansing.
Councilman Ryan Brandt, a police officer, suggested cutting out four new jailers to fund the 32 year pension plan. There was also some discussion of possibly phasing the 32-year pension in, which would leave some 20-plus year sheriff's employees out.
But Goodman and council president Liz Morris worried about the ongoing cost of boosting the pension.
"I'm just not comfortable with it," Morris said.
"I'm not opposed to funding pensions, but I'm worried when we're cutting $2 million," added Goodman.
Council did not approve or deny the additional pension funding Wednesday, but did ask Kreinhop and McHenry to represent the idea with more information at a later time. An additional appropriation could be made if the increased pension is shown to be affordable or revenues improve, but to start in 2019 it would have to be before the county makes its next payment to the pension.
The county council declined the sheriff's request for four new jail officers. The amount of $150,000 was approved for the sheriff's department to purchase five new cruisers, less than the $210,000 Kreinhop originally requested for seven new vehicles.
"We don't have a whole lot of options. Like, none," quipped councilman Bill Ullrich.