The small Catholic school needed to raise the money by the end of the year or face closure.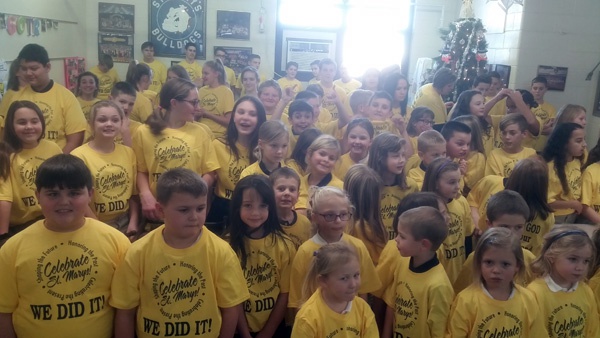 St. Mary's School students gather to celebrate the announcement that the school in Aurora will remain open beyond the 2018-2019 school year. Photo by Mike Perleberg, Eagle Country 99.3.
(Aurora, Ind.) – Thanks to a lot of prayers and many benefactors, St. Mary's Catholic School in Aurora will remain open beyond this school year.
"It means so much to me and my family. A lot of my family has attended school here. I'm very happy that they will be able to finish out their elementary education here at St. Mary's," said Krista Hensley, an alumna whose two children now attend the school on Fourth Street.
In October, the small K-8 school of about 80 students announced that it was borrowing from the Archdiocese of Indianapolis just to make payroll. The Archdiocese gave the school a December 31 deadline to raise $400,000 or be forced to close its doors at the end of this school year.
The school reached its lofty fundraising goal with time to spare. And so, St. Mary's will continue to educate children in reading, writing, arithmetic and Christianity.
On Monday, students and staff gathered in the school lobby to celebrate. They wore yellow shirts declaring "We did it! Thank God for our donors and answered prayers."
Principal Bob Brookbank lived up to his promise to do "the floss" dance for the students, earning many smiles and laughs. In his first year as a principal at St. Mary's, he hoped it wouldn't be his last.
"The time constraint was very stressful. Things just worked out fantastic," said a teary-eyed Brookbank.
Brookbank said grassroots fundraising helped to raise about $116,000 of the $400,000 goal. Many of those kinds donors didn't know St. Mary's School existed before news stories, inserts with city utility bills, and other fundraising efforts went out. Donation letters also went out to more than 400 alumni.
A small group of substantial donors helped bridge the gap to $400,000.
Aurora Mayor Donnie Hastings Jr. went to St. Mary's School. He called the school part of the little city's fabric.
"To lose St. Mary's would have been a punch in the gut I don't think Aurora could have overcome," Hastings said. "I did eight years here and I remember those days well. Those were good times. St. Mary's is very important to me."
Changes will be forthcoming to help keep St. Mary's financially solvent. As a school which has seen enrollment dwindle from about 140 students in 2009 to around 80 this year, growing enrollment will be a main focus, says Brookbank.
"We need bodies in this school. Tuition obviously funnels money into the school and we have some plans and now we can put more focus on it," said Brookbank.
Plans going forward also include combining classes next school year. The principal said a meeting with school families and parish members about that and other measures will happen Monday evening.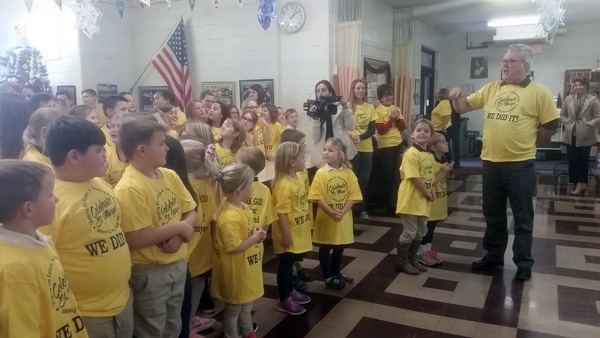 Aurora Mayor Donnie Hastings Jr. speaks to the St. Mary's School students. Photo by Mike Perleberg, Eagle Country 99.3.
RELATED STORIES: