The small, Catholic school in Aurora must raise $400,000 by the end of the year to avoid shutting down in 2019.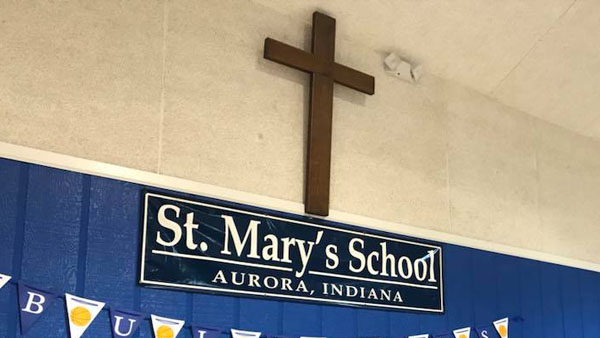 Photo courtesy St. Mary School.
(Aurora, Ind.) – Parishioners, parents, and students at St. Mary of the Immaculate Conception received worrisome news as they sat in the pews last Sunday.
The Catholic school in Aurora has been given an ultimatum: raise $400,000 by December 31 or the school will close at the end of the 2018-2019 school year.
"It is at this time that certain realities must be shared. We currently have $80,000 in our parish savings and less than that in checking. The archdiocese has already begun lending us funds to cover our payroll each month," the church stated in a letter to its community Monday.
"Additionally, we have borrowed over $28,000 from the Archdiocese, and will have to continue to do so each two week pay period, so that we have the means to meet possible financial emergencies, as the archdiocese will no longer allow us to continue to use our savings for payroll, as we have been doing for so many years. The Archdiocese has informed us that they will not loan us any money for operating expenses after this fiscal year ending June 30, 2019."
St. Mary School is small and tight-knit with around 20 staff members and 80 students in kindergarten through 8th grade. Many southeastern Indiana private schools have experienced enrollment declines over the past decade, and St. Mary has been no exception as its enrollment totaled more than 140 students in 2009.
PTO President Michelle Ryan, who lives in northern Dearborn County, drives 20 minutes each way to take three of her kids to school there each school day. She hopes to be able to send a fourth child, currently a preschooler, to kindergarten to St. Mary School next year.
"That's where I know the level of education, I know the staff, I know the family environment they are going to be in which is exception and allows students to grow and strive to be excellent," Ryan shares.
Ryan, an alumna of St. Mary School, also worries about what the economic impact may be for Aurora if the school were to shut down. The parishioners and school families who go there shop at downtown stores and eat at its restaurants.
It would almost take a miracle to raise $400,000 by the end of the year, but the people of the parish and school certainly believe miracles happen. So they are not giving up.
The parish has started a "Keep the Doors Open" campaign. Donations can be made online at www.mystmarys.com/give-online. Checks can also be mailed or taken to St. Mary's School, 211 Fourth Street, Aurora, IN 47001.
The fundraising effort began this week. Ryan says the early community response has been enormously positive.
"There are so many people in the whole of Dearborn County that have either gone to school there, gone to church there, or have received from our parish," she says. "There have been a lot of positive thoughts and now we have to turn that into actual donations."
Principal Bob Brookbank says he will be meeting with the financial staff at the Archdiocese of Indianapolis within the next week to discuss St. Mary School's situation.