To deter or stop a potential active shooter, non-classroom personnel at Sunman-Dearborn Community Schools will be allowed to carry a gun while in school.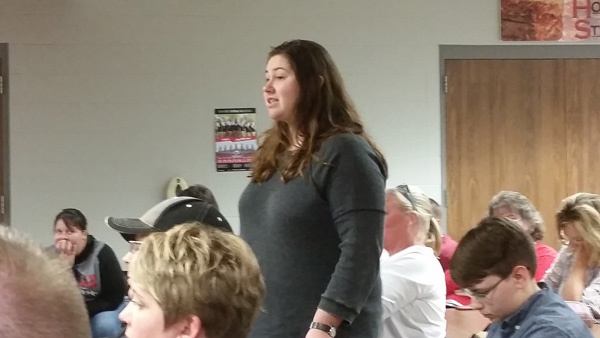 East Central High School student Molly Graham addresses the Sunman-Dearborn Community Schools Board of Trustees about the district's new firearms concealed-carry policy for some school employees. Photo by Mike Perleberg, Eagle Country 99.3.
(St. Leon, Ind.) - Some employees at Sunman-Dearborn Community Schools will be allowed to conceal carry a gun on school grounds.
The Sunman-Dearborn Community Schools Board of Trustees voted unanimously Thursday to approve the district's conceal carry policy. It is among only a handful of districts in Indiana to buck the "gun free" label.
Under the policy revised last month to exclude teachers from arming themselves, only non-classroom employees of the school district will be allowed to carry a gun if they chose to and receive proper training first. That means principals, secretaries, janitors, and cafeteria workers will be permitted to conceal carry at school.
"We've looked at this hard and long for many months now. This decision is not being made lightly," said board member James Graf.
Superintendent Andrew Jackson said that a survey of the district's teachers by the Sunman Dearborn Educators Association showed than 63 percent of them support the policy. Twenty-four percent of the teachers responding to the survey said they would be willing to conceal-carry if permitted.
"I think that's a significant statement that people who are in the classroom every day caring for the students are agreeing with the policy," Jackson said.
But school district parent Sam Melton, who is the principal at Dillsboro Elementary in the South Dearborn Community School Corporation, called it a bad idea.
"When it comes to arming staff, I have a real serious issue with that. I am disappointed with the board's decision," Melton told the board during the public comment portion of the meeting, which occurred after the vote.
Melton attended school safety specialist training this week and discussed the Sunman-Dearborn policy with about 20 experts in the field. None of them believed arming school personnel is a good step, he said.
The idea is viewed as a way of stopping or deterring an active shooter from targeting any of the district's schools. The district has two full-time school resource officers to covering five school buildings spanning from Bright to Sunman.
Although the school corporation has a new agreement with the Dearborn County Sheriff's Department to employ a third SRO on a rotating basis and has established a sheriff's substation in some schools, there are still concerns about response times for an officer to try and neutralize an active school shooter.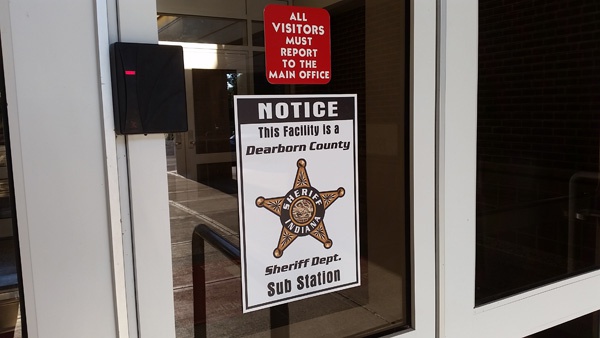 A sign posted on an entrance at East Central High School. Photo by Mike Perleberg, Eagle Country 99.3.
Parent Greg Rouse applauded the board's decision.
"I think you guys stepped up tonight and made a hero move by giving somebody the opportunity to take down a threat," Rouse declared.
Parent Robyn Stuham became emotional in telling the board she and her kids do not want guns in their school.
"I won't bring them here if there are guns. So I would like to know how long I have to find a different school to send my kids to?" Stuham asked.
Board president Mike Norman said he could not say when the first armed school employees would be approved. When asked if school families will be informed of whatever start date for armed employees is, Norman stated "No ma'am."
A couple students addressed the board. Molly Graham called the policy's passage repulsive.
"I feel like I've been let down because I don't feel like our voices are being heard," Graham said. "You look down on us children and think we are stupid."
Graham was followed by 8th grader Bryce Rouse, whose father spoke earlier in the meeting. He said he was scared when he was told by a teacher that he would have to use a baseball bat to fight off an active shooter if one ever came into his classroom.
"You guys made the right decision. Thank you."
In all, 14 people addressed the board, with opinions on either side of the issue evenly split.
Arming school employees is not the only measure the S-DCSC Board of Trustees has taken in regards to making schools safer. Also on Thursday, the board unanimously approved an agreement with Choices, Inc. to provide expanded mental health services to students. The employee focusing on evaluating and testing of students' mental health and substance abuse could be starting within the next six to eight weeks.
A school facilitator from Community Mental Health Center, Inc. is also being added in the district.
"We're excited to have this. It is an important piece," Norman said.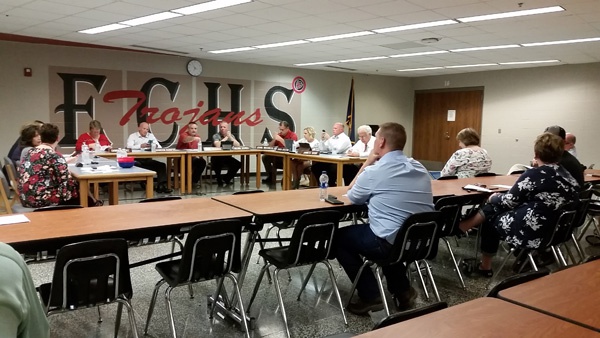 Photo by Mike Perleberg, Eagle Country 99.3.
RELATED STORIES:
Revised Sunman-Dearborn Conceal-Carry Policy Won't Arm Classroom Teachers
Armed Teachers Proposal Draws A Crowd To S-D School Board Meeting
Sunman-Dearborn Schools Developing Plan To Arm Some School Employees