There are differing opinions on whether Sunman-Dearborn Community Schools should allow teachers to conceal carry a firearm at school.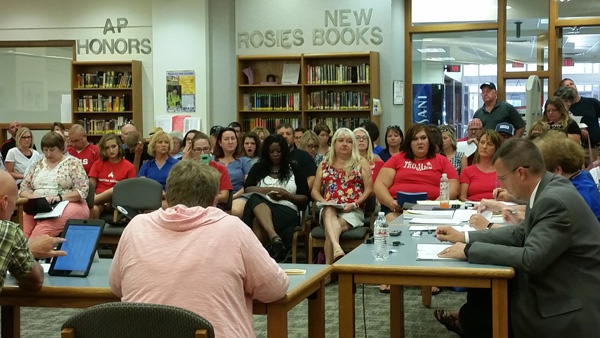 A large crowd came to see the school board discussion about a proposal to arm teachers at Sunman Dearborn Community School Corporation on Thursday, July 13. Photo by Mike Perleberg, Eagle Country 99.3.
(St. Leon, Ind.) - Emotional arguments were made at Thursday's meeting of the Sunman-Dearborn Community Schools Board of Trustees.
The board is considering a proposal to allow some teachers and staff to conceal carry a gun in the classroom as a means of protecting the school from an active shooter.
According to a draft of the policy, it is voluntary for each teacher. Teachers wishing to conceal carry would first have to complete an initial application to carry a concealed weapon, complete a psychiatric evaluation by a board-chosen psychologist, and approval of the district superintendent and school board. If approved, the teacher would be sent to training through the Buckeye Firearms Foundation's FASTER training and curriculum. A list of teachers allowed to conceal carry would be kept confidential.
Guns would have to be concealed from sight and on the teacher's person at all time, be semi-automatic in nature, and have no chambered round. Bullets would have to be frangible. All other school visitors would still be prohibited from carrying a weapon.
The entire draft policy can be viewed at the bottom of this story.
About 100 people filled the evening meeting held at East Central High School's library. Most who chose to speak were against the idea of arming teachers.
"As a fourth grade classroom teacher, I am horrified of school shootings. But guns do not belong in schools. It adds an unpredictable element which places students at risk," said Nicole Campbell, a parent of a student in the school district and a teacher in Ohio.
"So we agree, something needs to be done, right? We must reduce gun violence. We must protect our children. But the experts, teachers, our unions, we all agree that bringing more guns into buildings isn't the answer," Campbell added.
Liz Molata, a representative of anti-gun policy group Moms Demand Action for Gun Sense in America, said arming civilians is not an effective way to prevent active shooters. She attempted to sway board members with data and examples of how more guns can complicate police response to active shooter situations.
"In fact, armed civilians have put law enforcement in danger, delayed law enforcement responses, and posed risks to innocent bystanders during active shooter crises," she said.
Amanda Noell is a special needs student parent and candidate for York Township Trustee. She presented the board with print-offs of pro-gun Facebook posts made by district teachers.
"This isn't a person I want with a weapon around my child," she said.
Another speaker, Grant Landry, followed later saying he would want his daughter in a room with one of those teachers making the Facebook posts shown by Noelle "because they are not cowards."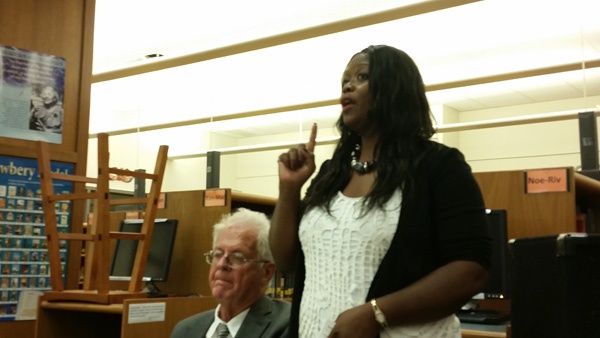 Jeannine Lee Lake spoke at the board meeting. Photo by Mike Perleberg, Eagle Country 99.3.
Indiana 6th District Congressional candidate Jeannine Lee Lake, a Democrat, appeared and spoke at the meeting. She said she supports the Second Amendment.
"We're all afraid that something is going to happen to our children," the Muncie resident said.
Lake did not take a stance on the issue of arming teachers, but she did say that she is praying the school board can come to the right decision.
Two students spoke in opposition to the armed teachers policy. Armin Palazzolo said guns in the classroom will create a barrier to trusting teachers.
"If somebody is drowning, do you offer them a glass of water? If somebody is on fire, do you hand them a lighter? Schools have a problem and that problem is guns in the building," Palazzolo said.
Konnie Couch founded Women Armed and Ready, a local organization which works with the National Rifle Association to train and license women to use and carry firearms. The Aurora resident countered other speakers' criticisms of the NRA. She said schools can have safety features such as metal detectors, but those can create a false sense of security.
"All the gun legislation in the world is not going to stop a school shooting," Couch stated.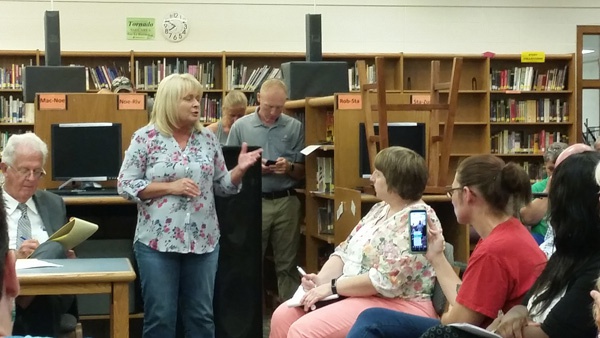 Women Armed and Ready founder Konnie Couch speaks at the board meeting. Photo by Mike Perleberg, Eagle Country 99.3.
Couch and others asked the board ensure teachers permitted to carry are properly trained and undergo mental health evaluations. She also pleaded that they greatly shorten the reauthorization period from every three years. "It should be done every month," she said.
After all others had commented, teacher Steve Lewis representing the Sunman-Dearborn Educators Association asked that teachers be surveyed on the matter, especially because the meeting happened during summer break.
School Board President Mike Norman said the school district is taking a look at all options to secure the school.
"It's a discussion we're having, it's not being taken lightly," Norman said.
The board did not vote on the proposal. It is unclear when it may come up for a vote again.
"We didn't come here tonight to pass this. We just wanted to get the public opinion," said board member James Graf. "I don't know where I am at on it, to be honest with you."
State law does allow school boards to put armed teacher policies in place, however, only one other school district in Indiana allows teachers to conceal carry.
DRAFT CONCEALED CARRY POLICY
RELATED STORIES:
Sunman-Dearborn Schools Developing Plan To Arm Some School Employees