Council members voiced strong feelings on how the city should pay it's $15 million share for a new apartment building and parking garage.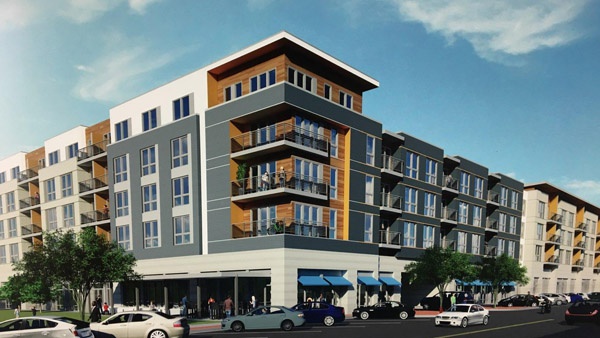 Lawrenceburg Common Council voted 3-2 to approve a funding plan for its share of a $30 million, 150-unit apartment building on West High Street. Photo provided.
(Lawrenceburg, Ind.) - The City of Lawrenceburg will not borrow in order to fund its half of a $30 million apartment building on the Ohio River.
The city and Indianapolis-based developer Flaherty& Collins are partnering to build the 150-unit residential building on the levee on West High Street.
Lawrenceburg Common Council voted 3-2 on Monday to pass a plan to use the city's cash and funds generated by a new TIF district to pay the city's $15 million share of the development's cost.
Council voted unanimously to move forward with the project in June. During a work session on the topic last week, however, it became clear council members had competing ideas on how to finance it.
Councilman Paul Seymour Jr. called the plan approved Monday a compromise with other council members who wanted to bond part of the city's funding.
"I strongly believe that this city doesn't have a problem financing the next project. Here we are talking about a splash park for $1 million. We talk about these things because we can afford them. I wonder when we are going to slow down spending. We need to, but I truly believe we don't need to bond it," Seymour said in making his motion.
Tony Abbott, who voted "no" on the funding plan along with Mel Davis, earlier in the meeting unveiled a proposal to construct a new and improved splash park for young children at the city's Pat O'Neill Memorial Pool. He had previously voiced concerns that spending cash on the apartments will tie council's hands on pursuing other projects.
"I want this apartment building down there, but paying for it with cash – $15 million out of our pot – is way too much. I think we should take it from the TIF money and bond it out and let the TIF money pay it back, because taxpayers aren't getting that TIF money," Abbott said Monday.
Abbott worried that the city won't be able to spend the $600,000 in annual TIF revenue anywhere else. Mayor Kelly Mollaun countered that the city could use it for other projects, such as the new civic park under construction on East High Street.
Upset with the vote, Abbott lamented that the funding plan goes against the recommendation of Lawrenceburg Clerk-Treasurer Rich Richardson, handler of the city's accounts and investments.
"It is not right," Abbott said.
When a property is designated as a TIF – tax incremented financing – district, explained Mollaun, the property tax revenue does not go to the usual disbursements, such as schools, the library, and local government. Instead, the tax revenue is put in a separate TIF fund to be used for infrastructure or development of the property.
Not wanting to harm the schools' property tax revenue from the apartment property, Seymour's successful motion directs the city to set up a pass-through to keep the school's funding intact.
Construction on the apartments is likely to start within a year.
RELATED STORIES:
L'burg Council Wants New Apartments, But Should The City Borrow To Pay It's Half?
Lawrenceburg Council Gives Green Light To River Levee Apartment Development
New Lawrenceburg Civic Park Could Lure More Downtown Investment
$30M Apartment Development Could Be Coming To Lawrenceburg's Riverfront