A vacant lot on the Ohio River in Lawrenceburg may soon be home to a multi-million dollar residential and retail development.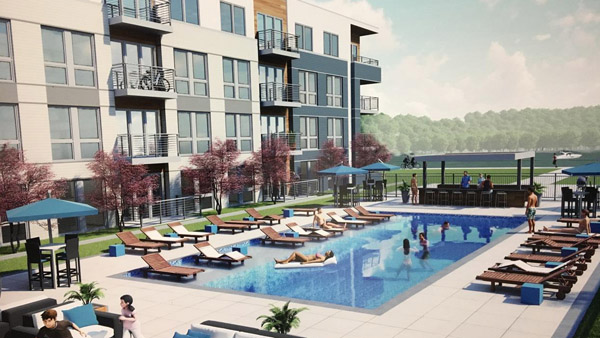 This is a conceptual rendering of the courtyard at a new multi-story apartment building proposed for a lot on the levee overlooking the Ohio River in Lawrenceburg. Photo provided.
(Lawrenceburg, Ind.) - A vacant lot on the Ohio River in Lawrenceburg may soon be home to a multi-million dollar residential and retail development.
Flaherty & Collins Properties, the City of Lawrenceburg, and the Lawrenceburg Redevelopment Commission are working toward a public-private partnership to construct the apartments on the 400 block of West High Street, redevelopment commission director and city coordinator Bryan Messmore tells Eagle Country 99.3.
With an event center, community college, well-established restaurants, and construction about to begin on a new civic park, city leaders believe the development could be just what Lawrenceburg's downtown district needs to continue to thrive.
"Lots of communities are trying to attract those millennials and empty nesters. One of the components that's been identified over the years is bringing that sort of residential component to downtown to help sustain local merchants and provide a good tax base long into the future," Messmore says.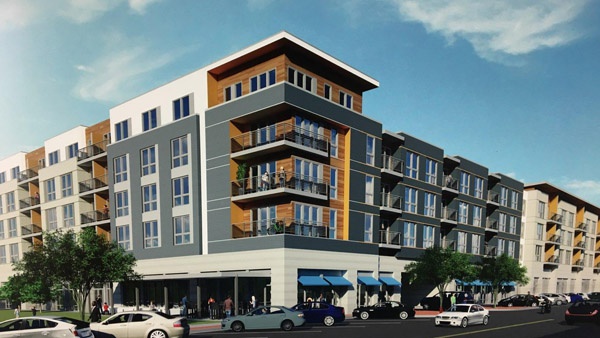 A rending of the proposed apartment building's placement on the Ohio River levee in Lawrenceburg. Photo provided.
Indianapolis-based Flaherty & Collins has created a proposal for a 150-unit, resort-style apartment building rising four stories above the levee overlooking the Ohio River and downtown Lawrenceburg. Below the levee would be a two-story parking garage for residents. Some build out to include retail and office space could occur, Messmore shares.
A courtyard open to the river would be at the center of the U-shaped building.
Renderings of the project show a swimming pool in the courtyard.
The estimated investment would be about $30 million, according to Messmore. The cost could be split between the city and Flaherty & Collins Properties, but no formal agreement has been reached.
The lot, referred to as the Lotus property, is owned by the Lawrenceburg Redevelopment Commission. It is currently occupied only by a mural on a levee wall and inactive utility poles used rarely to host a lineman rodeo. It is located next to the Vance-Tousey House, home of the Dearborn County Historical Society.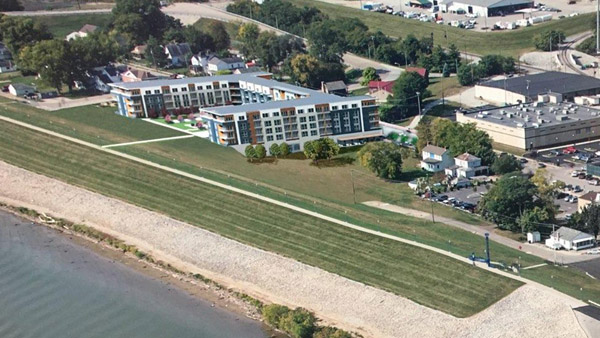 The Lawrenceburg Redevelopment Commission has for years eyed the property for a quality residential development.
Late last year, Messmore and other city leaders visited another Flaherty & Collins development in Indianapolis. Many of them came away impressed with the developer's work.
Last week, Flaherty & Collins representatives presented the proposal to city council and the redevelopment commission.
Messmore said the proposed development could be discussed by city council at their next meeting on Monday, February 5. "It could potentially come to a vote in February, to pursue it. That's not writing a check or anything like that, but it's saying 'Let's dig a little deeper on the design and costs,'" Messmore said.
No dates for construction or completion of the project have been identified. Construction would take about two years, Messmore said.