City officials broke ground on the new park Friday.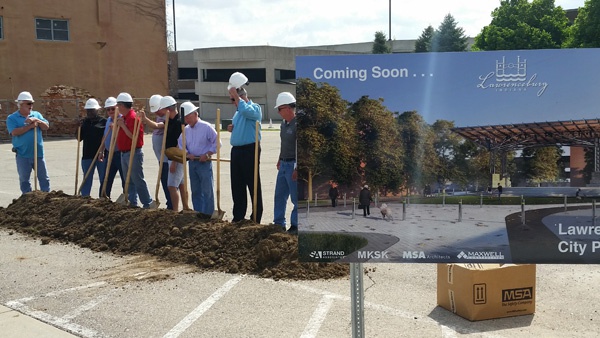 Lawrenceburg City Council members and Mayor Kelly Mollaun broke ground on construction of a new downtown park on Friday, May 4. Photo by Mike Perleberg, Eagle Country 99.3.
(Lawrenceburg, Ind.) - The first shovels hit the dirt today at the site of planned civic park in downtown Lawrenceburg.
Mayor Kelly Mollaun led the groundbreaking of the park at the corner of Short and High streets.
"I just hope everybody realizes all the work that went into this. Obviously, we used monies that we collected on some loans and such like that. So there was no affect to the taxpayer, to our cash, or investments," Mollaun told the gathered crowd.
Strand Associates Inc., architects out of Columbus, Indiana, designed the park, which includes a lawn, splash pad, and stage. Greendale-based Maxwell Construction is the construction manager.
Work could be completed in the fourth quarter of 2018. City leaders expect the park to become an anchor attraction, helping spur additional downtown development.
"I think everybody is going to be really, really happy with the end result," Mollaun said.
Lawrenceburg Redevelopment Commission director Bryan Messmore said the park has a budget of no more than $6 million. Final costs and designs are still being figured, he said.
RELATED STORIES:
AUDIO: Mayor Makes Case For Lawrenceburg's Greatness
$30M Apartment Development Could Be Coming To Lawrenceburg's Riverfront