The prosecutor in Ripley County is seeking to have the murder cases waived to adult court.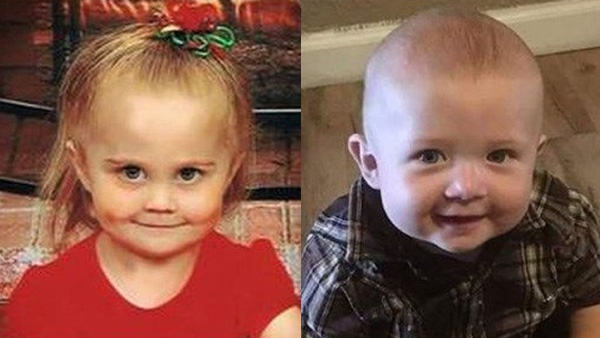 The older brother of Desiree McCartney (left) and Nathaniel Ritz has been charged in their deaths.
(Ripley County, Ind.) - A Ripley County teenager allegedly told investigators he took the lives of his younger brother and sister in order to spare them from hell.
"In my time here, which has been 19 years, I'm not sure that I've seen anything quite as disturbing and final," Ripley County Prosecutor Ric Hertel said at a press conference about the case Wednesday.
Nickalas Kedrowitz, 14, was the subject of a juvenile delinquency petition filed in Ripley County court on September 6. He faces two counts of murder.
Indiana State Police detectives say the teen fatally smothered 23-month-old Desiree McCartney with a towel at their home on Maple Street in Osgood on May 1, 2017. She died in the hospital five days later. An autopsy could not determine a cause of death, but did reveal that the child suffered a prolonged period of anoxia to the brain.
In the wake of the death, Kedrowitz was removed from the home by the Indiana Department of Child Services. Hertel said he was made a ward of the state, which kept investigators from questioning him. DCS later placed Kedrowitz back into the home.
Then, just 81 days after McCartney's death, eleven-month-old Nathaniel Ritz died July 20. Nathaniel was rushed to a local hospital upon being found unresponsive in the same home. A doctor determined that he died of asystole, a type of cardiac arrest.
Investigators learned that Kedrowitz was the last person to be alone with the toddlers before their mysterious deaths.
Court documents go on to show investigators learned from relatives Kedrowitz was staying with following the deaths that he was showing troubling behaviors. One relative found him with a mutilated kitten in September 2017. He told another relative with health problems that she needed to die.
Investigators would then go to question Kedrowitz. He allegedly admitted to killing both children by smothering them with a towel or blanket.
"There were several remarks made to police officers, both detectives Miller and Tressler with the State Police, about freeing the siblings from some sort of hell," Hertel told reporters.
The teen allegedly told another relative in January that he had broken one of the 10 Commandments, "Thou shalt not kill." He shared that he had killed his brother and sister, according to the court affidavit.
Nickalas Kedrowitz is now being held at the Dearborn County Law Enforcement Center. Prosecutor Hertel says he will ask a judge to waive the murder cases against the 14-year-old to adult court.