Mayor Kelly Mollaun gave a 30-minute speech Friday highlighting the positives happening in the City.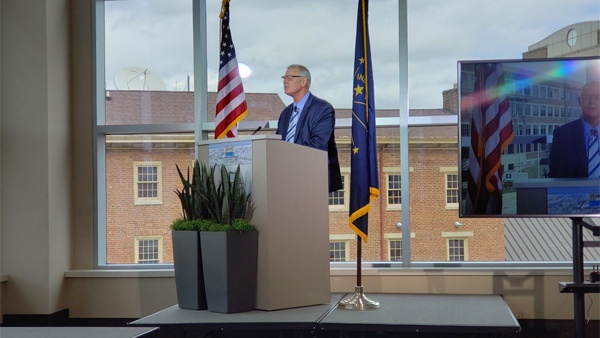 Lawrenceburg Mayor Kelly Mollaun gives his 2021 State of the City Address from the Lawrenceburg Event Center. Photo by Travis Thayer, Eagle Country 99.3.
(Lawrenceburg, Ind.) - Lawrenceburg is a city on the rise that is becoming a destination, all while keeping its small town charm.
That was the essence of Mayor Kelly Mollaun's State of the City Address on Friday afternoon at the Lawrenceburg Event Center. Although his speech was closed to the public due to the ongoing COVID-19 pandemic, Mayor Mollaun spoke for 30 minutes about what the City was able to accomplish in 2020, and plans going forward in 2021.
Obviously, 2020 was not the year anyone expected, but the City of Lawrenceburg had a lot to celebrate during an otherwise tough year.
At the beginning of 2020, the City welcomed four new city council members: Brett Bondurant, Justin Noppert, Thomas Rowlett, Sr., Lenny Fryman. That group, along with Tony Abbott, made an immediate impact by making a decisive move to move on from former LMU director Olin Clawson. The City would eventually welcome Billy Kinnett as the new LMU director.
But as March rolled around, COVID-19 came into the picture.
"Everybody wants to forget 2020, I understand that," Mollaun said. "It's been a challenge for everyone, including us here in the City. We figured out very early on that there was no script for COVID. Everybody was trying to make decisions based upon the information that they had. We relied a lot on the State and our Dearborn County Health Department. I can't say enough about them and the job that Dr. Elison and that group has done."
Mollaun said the City's number one goal during the pandemic was to protect public health and safety. He applauded the work of first responders and the team at the Health Department for working around the clock to ensure the city was safe and secure.
With COVID-19 came hardship for many Lawrenceburg businesses and residents. The City received state recognition for their proactive approach to helping community members during the pandemic. Mayor Mollaun said the city awarded 78 Small Business Grants to help struggling businesses. Today, 75 of the 78 businesses are still in operation.
The City also offered a two-moth reprieve on utility bills for Lawrenceburg residents.
Despite COVID-19 altering plans in 2020, the City of Lawrenceburg was able to accomplish the following:
The launch of a city-wide, one-call system called REACH.
The opening of a new splash park at the City Pool.
The completion of 11 street projects on Ludlow Hill.
Ludlow Hill Park improvements.
Continued emphasis on the CARE Initiative to help combat the opioid crisis.
Announced drainage improvements on Doughty Road.
Groundbreaking of the Whiskey River Apartments.
The latter, which is located on W. High Street, will bring 150 luxury units to the city. Mayor Mollaun said the apartment complex will bring at least $7.5 million in property tax collections over the next 25 years, and $20 million in utility revenue over the next 30 years.
"It's something we are investing in now when we had the opportunity that will pay dividends 20 to 30 years from now," said Mollaun.
Mollaun added that the City is looking into affordable housing opportunities as well.
Looking forward to 2021, the mayor says Lawrenceburg will see "progress like you've never seen."
New retail is expected in the downtown area, including a bakery, woodworking shop, and a new antique mall.
"We've had more activity of people wanting to come explore Lawrenceburg for a potential business during COVID than we did pre-COVID," said Mollaun.
Riverfront development will also be a big focus in 2021. The City has already had discussions about the Lawrenceburg Riverfront Pergola Swing Corridor that would place nine swings along the riverfront levee. The City is also trying to identify ways to increase access to the riverfront from the downtown area and vice versa. Mayor Mollaun hinted that a new boating dock and a second floating restaurant could be in the works.
Other highlights include:
Potential Senior Housing development at the Durbin Plaza near the Adult Center.
Lawrenceburg Community Center facelift.
Arch Street Park rehabilitation.
Old State Road 48 slip repair project.
Sidewalk project along State Road 48 to provide safe space for walkers/runners and a connection to Ludlow Hill Park.
The City is also excited about several events that have already been scheduled for 2021, including a Community Cookout in April, Music on the River this summer, Lawrenceburg Fall Music Fest, and the return of Winter Wonderland Parade and Festivities.
"We're planning to go forward with our events. We've already started to having planning meetings for all of our downtown events. We want everybody to be able to come down and hopefully with no restrictions," Mollaun stated.
If restrictions are put in place, Mollaun says the City will approach the matter similar to how they did in 2020.
"There's a lot going on here in Lawrenceburg and I'm very proud to be a part of if, and I thank you for allowing me to be a part of it. I don't take this position lightly. I know that what we are doing here will affect each and every one of us, each and every one of our kids and our grandkids going forward. Lawrenceburg is becoming a destination. That's part of our vision, to make Lawrenceburg a destination. We're not trying to do away with small city Lawrenceburg, I grew up here, I know what it was like 40, 50 years ago. What we're trying to do is move us into progression. We are going to do that in a very systematic way. We are turning the corner here," said Mollaun.
For more information on all things Lawrenceburg, visit www.thinklawrenceburg.com.