The orange and black color scheme is a nice touch.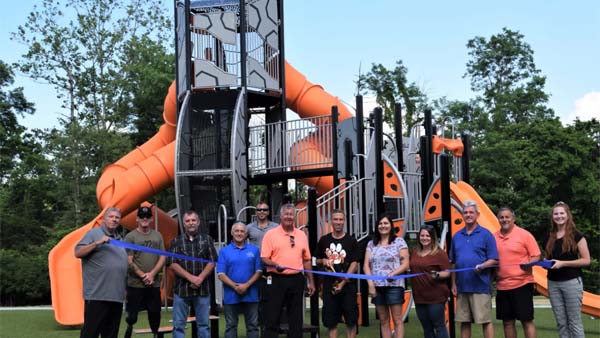 Pictured are Councilman Lennie Fryman, Brett Bondurant, Thomas Rowlett Sr., Tony Abbot & Justin Noppert, Mayor Mollaun and Ludlow Hill Park Playground Committee Members. Group picture includes playground enthusiasts of all ages and canine friend along with Jason Daniels of Snider Recreation Inc.. Noppert family enjoy musical play equipment. Picture courtesy of Kelly Brookbank.
(Lawrenceburg, Ind.) – An impressive new playground has been installed at Ludlow Hill Park.
The City of Lawrenceburg unveiled the $600,000 playground on Thursday.
"Starting last year, we had a committee of parents and community members help design the new playground at our Ludlow Hill Park," said Mayor Kelly Mollaun. "This $600,000 project took a lot of time, with great input from our playground committee, to finalize a design that could be utilized by different age groups for ultimate fun and healthy experience."
The Ludlow Hill Park Playground Committee is comprised of Brittany Bleich, Eric Abbott, Dan Rogers, Jack Granger, April Pearson and Lydia Morath.
The playground equipment was supplied by Snider Recreation Inc. with installation supervised by City of Lawrenceburg Engineering Director Mike Clark and Construction Project Manager Mario Todd.
When using the new playground equipment, kids and parents are urged to follow these guidelines:
Wash hands or use hand sanitizer before and after play
Maintain six feet apart for safe social distancing
Shoes must be work at all times on playground equipment and turf due to hot surfaces
If you are sick – please stay home
HAVE FUN!
"Following our Clean, Safe and Healthy guidelines, our city workers do a great job of keeping the grass cut and the equipment safe, clean and operational for visitors to enjoy," said Communications Director Guinevere Emery.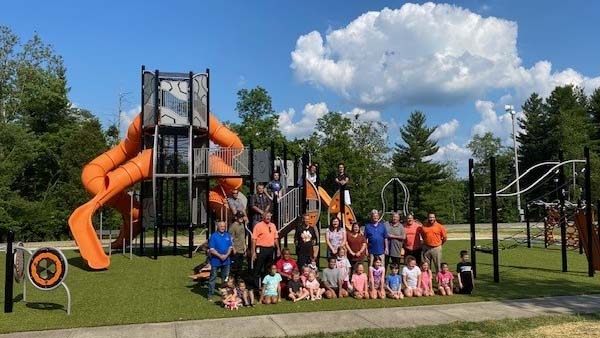 Photo by Kelly Brookbank.