The opening of the pool will follow Indiana State Department of Health COVID-19 Response Recommendations for Pools & Aquatic Facilities.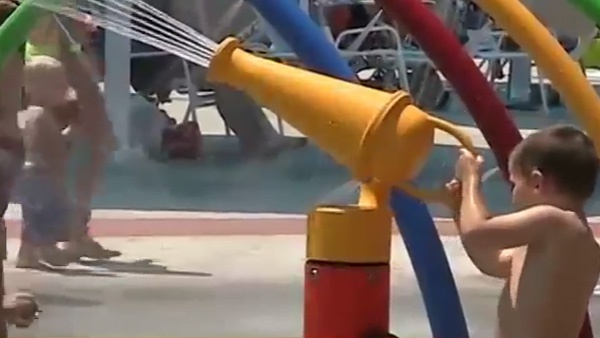 Update published Wednesday, May 13:
The City of Lawrenceburg released the following statement and guidelines for the tentative opening of the city pool:
"Following a Special City Council Meeting today, Mayor Kelly Mollaun and the Lawrenceburg City Council unanimously approved tentatively opening the City Pool and Splash Park June 15th, 2020 with restrictions subject to an upcoming City Council Work Session to finalize pool operations and minimize any possible COVID-19 exposure risks. Noting that it was not an easy decision to open the City pool for the season, all agreed that the #1 goal was children and attendee's public health and safety. City officials are confident, while ensuring the community, parents and staff work together with personal responsibility and commitment to "do whatever we can, as safely as we can" that reopening the City Pool safely with due diligence can be done."
• Mayor Mollaun, the Lawrenceburg Councilmembers, City Safety Coordinator, Pool Manager, Staff and a Dearborn County Department of Health official shall meet in an upcoming work session to develop further proactive COVID-19 Response pool policies and logistics to include enforcing health & safety recommendations, as well as, pool facility staff roles & responsibilities, water chemistry, disinfecting schedule and facility attendance requirements.
• Abide by ISDH COVID-19 Response Recommendations for Pools & Aquatic Facilities in accordance with Governor Holcomb's "Back on Track Indiana" Stage 4 plan as of June 15th, 2020.
• Due to the ISDH 50% Bather Load Reductions and Social Distancing requirements for Pool & Aquatic Facilities which will limit attendance requirements, only City of Lawrenceburg residents may participate with an LMU Utility Bill showing proof of residency.
• City crews accelerate Safe, Clean & Healthy efforts to ensure the Pool & Splash Park facilities are disinfected, including frequently touched surfaces for opening readiness, daily custodial schedule and throughout the Pool Season.
• Tables & benches will be appropriately spaced 6' or more apart. Individuals may bring their own lawn chairs.
• Under no circumstances should lifeguards be taxed with additional surveillance/enforcement duties related to enforcing face covering expectations.
• Swimming with a face covering could present a drowning hazard and should be prohibited.
• Individual waiver, signage and handouts will be available as an added protection for residents participating in recreational pool & swimming activities.
• The City of Lawrenceburg shall continuously monitor the pool activities, noting that while the City will abide by ISDH and CDC guidelines regarding COVID-19, including social distancing guidelines, the City of Lawrenceburg may implement more stringent requirements if Council chooses to do so at any time.
• The City of Lawrenceburg Pool Season will close Sunday August 2nd, 2020.
• More information on the City of Lawrenceburg 2020 Pool Operations and COVID-19 Public Safety Response will be provided at www.thinklawrenceburg.com in the near future. For more information on preventing the spread of COVID-19 at public/semi-public aquatic facilities, please visit: https://www.in.gov/isdh/files/COVID-19 Pool Operation 20200505.pdf.
Original story published Tuesday, May 12:
(Lawrenceburg, Ind.) - To open or to remain closed, that is the question.
Community swimming pools have been a hot topic in recent weeks. Rising Sun and Versailles have chosen to open their community pools, while Aurora and Greendale's pools will remain closed for the 2020 season.
On Tuesday evening, the City of Lawrenceburg announced that the City Pool and brand new $1.1 million Splash Park will tentatively open on June 15 following Indiana State Department of Health COVID-19 Response Recommendations for Pools & Aquatic Facilities.
The pool opening would also fall under Governor Holcomb's five-stage "Back on Track" plan that will allow pools to reopen as soon as May 24.
No further information was provided.
Considerations for pools and water playgrounds during COVID-19 can be found at https://www.cdc.gov/coronavirus/2019-ncov/community/parks-rec/aquatic-venues.html
RELATED STORIES:
Aurora, Greendale Community Pools Will Not Open In 2020
Rising Sun City Council Approves Plan To Open Community Pool
L'burg Splash Park Opening Delayed Until 2020