The City has been awarded $600,000 to help fund the project.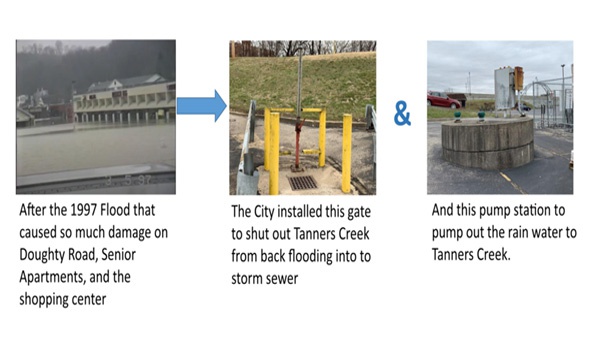 Photos by the City of Lawrenceburg.
(Indianapolis, Ind.) – The City of Lawrenceburg is one of 12 Indiana communities to receive funding to improve water infrastructure.
Lt. Governor Suzanne Crouch and the Indiana Office of Community and Rural Affairs today announced the 12 rural Hoosier communities that will split $8 million in federal funding.
Lawrenceburg is awarded $600,000 for flood drainage improvements. The City's project will rehabilitate storm drainage infrastructure in a high-flood prone area adjacent to Doughty Road.
Plans include replacing the sluice gate, backflow valve, and pump to the current systems and rehabilitating ditches in the area to prevent future flooding in the Doughty Road area.
Following the Flood of 1997, the City installed a slide gate to keep flood water from backing through the storm sewer and causing flooding. A storm water pump station was also installed to pump rainwater out of the storm sewers on Doughty Road and the nearby shopping center parking lot to Tanners Creek.
The system has performed well over the past 21 years, but improvements are needed to keep the system running properly.
The City will use the $600,000 grant from the Office of Rural Affairs with the remainder of the funding coming from Local Water Storm Funds. In total, the project is estimated to cost $906,000.
"Ensuring rural communities have the necessary infrastructure in place has never been more crucial as we continue to cope with COVID-19," said Denny Spinner, Executive Director of OCRA. "Indiana's rural communities must have a foundation to build on to enable them to be on the road to recovery, and water projects such as these are essential as leaders focus on the health and safety needs of their residents. This is another example of state and local leadership coming together to improve the quality of life for Hoosiers across the state."
For more program information, visit in.gov/ocra/cdbg.htm.
RELATED STORIES
L'Burg Residents Asked To Take Doughty Road Storm Water Improvements Project Survey