After the flood of 1997, the City installed a gate to shut out Tanners Creek from back flooding into the storm sewer. Improvements are needed to keep the system running properly.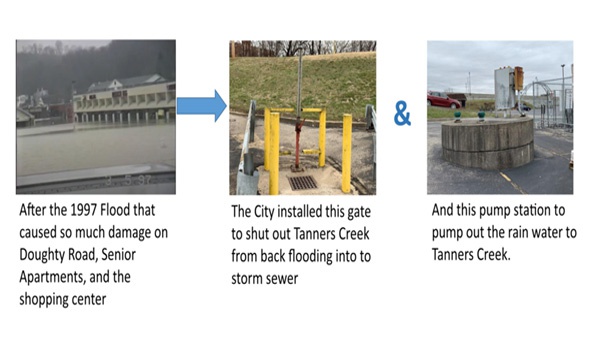 Photos by the City of Lawrenceburg.
(Lawrenceburg, Ind.) - The City of Lawrenceburg is submitting an Office of Community & Rural Affairs (OCRA) Community Block & Development Grant application to rehabilitate the storm water pump station on Doughty Road.
During the 1997 Flood, the only thing holding Tanners Creek from back flooding through the storm sewer was a cast iron flap gate. The gate did not keep the creek waters out.
To prevent this catastrophic flooding from occurring again, the City took action by installing a slide gate that the city staff closes when Tanners Creek gets to a certain flood elevation. This keeps the flood water from backing though the storm sewer and causing flooding. A storm water pump station was also installed to pump the rainwater out of the storm sewers on Doughty Road and the shopping center parking lot to the creek.
This system has performed very well over the past 21 years.
After more than 20 years, even with regular maintenance, there are needed improvements to keep this system running properly to reduce the risk of failure. The City is applying for a grant of $600,000 from the Indiana Office of Community and Rural Affairs to help pay for these improvements with the remainder from Local Storm Water Funds. The total construction project estimate is $906,000.
Your support will help us win the grant. Please take our short survey to let us know how flooding on Doughty Road impacts you and to show your support.
Your participation in this survey is greatly needed and appreciated. This survey will be open until October 26, 2020. https://www.thinklawrenceburg.com/news/city-news/doughty-road-storm-water-improvements-project-survey/
Written letters of support and answering survey questions will increase our chances of being selected for this critical grant. For questions please contact Grant Administrator Judy McAdams at jmcadams@lawrenceburg.in.gov or call 812- 532-3557 if you'd like to submit a letter of support.
Visit www.thinklawrenceburg.com for more information.