The City has been awarded funding for a slide repair project on Old State Road 48.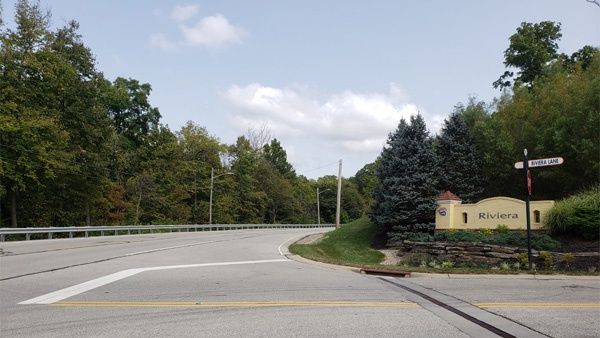 File photo.
(Lawrenceburg, Ind.) – The City of Lawrenceburg has been awarded a Community Crossings Grant, which will be used to remedy a current problem on Old State Road 48.
A temporary barricade was put in place at a slide spot on Old State Road 48 (Bielby Road) in October. From the onset, the plan was to keep the portion of the road between Riviera Drive and Heiner Heights barricaded until proper repairs could be completed. That plan was deemed the safest option.
In order to fund the future repairs, the City applied for a Community Crossings Grant.
The hope of acquiring a Community Crossings Grant came to fruition on Tuesday when Indiana Governor Eric Holcomb and INDOT Commissioner Joe McGuinness announced the recipients of matching funds in the 2020 summer/fall call for projects.
The City of Lawrenceburg was awarded $791,809.07.
Mike Clark, Director of Engineering for the City of Lawrenceburg, who recently announced his retirement following over 38 years with the City stated that the funding will go towards the total roadway rehabilitation for Bielby Road.
"Good note to go out on," Clark added.
Construction is expected to occur within the 2021 construction season.
Lawrenceburg Mayor Kelly Mollaun was pleased to share "how excited we are here locally to take advantage of the Community Crossing program to continue to make critical improvements to ensure our roadways remain safe."
RELATED STORIES
Community Crossing Grants Awarded To Local Communities
Temporary Barricade In Place On Old State Road 48
AUDIO: Lawrenceburg Mayor Talks Fourth Port Snub; Old State Road 48 Improvements