The City of Lawrenceburg hopes to use a potential Community Crossing Grant to properly fix the slip sometime next year.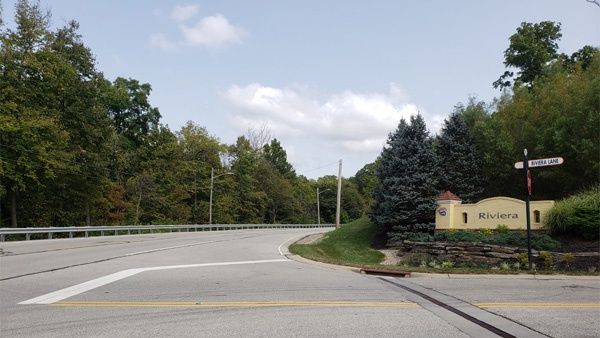 The City of Lawrenceburg plans to barricade a portion of Old State Road 48 at a slide spot between Riviera Drive and Heiner Heights. Photo by Travis Thayer, Eagle Country 99.3.
(Lawrenceburg, Ind.) - The City of Lawrenceburg is planning to close off a portion of Old State Road 48 until proper slip repairs can be completed.
The Old State Road 48, also known as Bielby Road, has had its problems with slips in the past. A current slip in the road is seen as a danger to community members who frequently travel Bielby Road.
At a city council meeting last week, Mayor Kelly Mollaun announced a plan to correct a current slide in the road. That plan includes closing a portion of Old State Road 48 at a slide spot between Riviera Drive and Heiner Heights.
"There have been slips there for years," said Mollaun. "We need a fix now."
Under the plan, traffic traveling up the hill could go as far as Riviera Drive. Traffic coming from the top of Old State Road 48 would be stopped by a barricade just after Heiner Heights.
The City did look at other options, such as installing temporary traffic signals to reduce a portion of the road to one lane.
However, barricading the road was deemed the safest plan by engineers, city project manager Mario Todd and safety coordinator Mike Abdon. Concerns about inclement winter weather were brought up at last week's council meeting, considering many Ludlow Hill residents and ambulances use Old State Road 48 in snowy or icy conditions.
Mayor Mollaun said the City will need to work with INDOT to keep the SR 48 cut in the hill clear and to maintain access to the hospital when winter weather hits.
Eventually, the City hopes to obtain a Community Crossing Grant to help pay for work to properly fix the slide. Currently, the state is not handing out Community Crossing Grants due to COVID-19. The grants are done through Gas Tax and revenues from the tax have been down in 2020 due to the pandemic, which has forced Hoosiers to work from home - limiting their time behind the wheel.
To properly repair the slide on Bielby Road, the City estimates the project would cost approximately $2.5 to $3 million.
"We want everyone to know this is temporary, we just don't know how temporary it will be," said Mollaun.
The City plans to re-apply for Community Crossing Grants. The expectation from state legislators is that the program could start back up in 2021.