Three southeastern Indiana lawmakers shared their reflections of the 2019 Indiana Legislative Session during an event in Lawrenceburg Tuesday.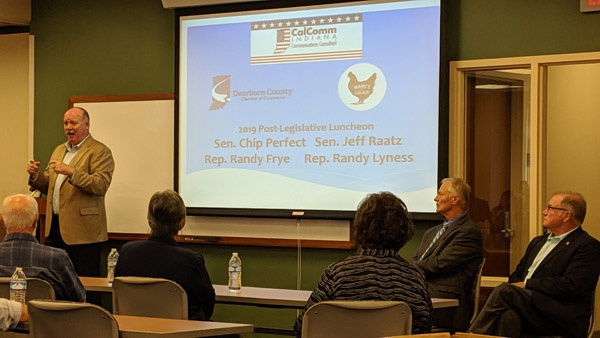 (Left to right) State Senator Chip Perfect, State Rep. Randy Frye, and State Rep. Randy Lyness spoke at the Dearborn County Chamber of Commerce's 2019 Post-Legislative Luncheon in Lawrenceburg on Tuesday, June 11. Photo by Mike Perleberg, Eagle Country 99.3.
(Indianapolis, Ind.) – Southeastern Indiana lawmakers agree that raising the state's tax on a pack of cigarettes by $2 per pack would have been the right thing to do.
So would raising the smoking age from 18 to 21, a measure which can prevent more people from becoming smokers.
But lawmakers are reluctant to raise taxes. That was the explanation from State Sen. Chip Perfect (R-Lawrenceburg) at Tuesday's Dearborn County Chamber of Commerce Post-Legislative Luncheon presented by CalComm Indiana.
Although a statewide poll commissioned late last year by the Raise it For Health Coalition showed 70 percent of Hoosiers would support a $2 per pack increase on cigarettes or raising the smoking age to 21, an "overwhelming" number of constituents in Perfect's Senate District 43 may actually be opposed to both ideas.
"That is surprising to me," Sen. Perfect told the room of local business leaders at Ivy Tech Community College's Lawrenceburg Riverfront Campus. "Having heard the testimony, I would still likely vote for the tax. I would still likely vote to raise the age."
Perfect said his office's own surveys of constituents have shows that voters are decidedly opposed to the tax increase on cigarettes. He did not share specific numbers of the surveying.
State Representative Randy Frye (R-Greensburg) also appeared at the chamber event. He explained that he has supported raising the cigarette tax. However, legislation to do that has historically died in the state Senate after passing the House of Representatives.
"My dad died of brain cancer and secondary lung cancer at the age of 48. I am not a fan of smoking," said Frye.
But the tobacco issues are not likely to go away just because they didn't garner support at the statehouse during the 2019 session. Fellow State Rep. Randy Lyness (R-West Harrison) said a tobacco tax increase bill is filed each year and he anticipates another one when the 2020 legislative session starts next January.
Highpoint Health president and CEO Michael Schwebler shared his views with the lawmakers at Tuesday's event. He said much of Indiana, Ohio and Kentucky's poor health rankings have a lot to do with tobacco use. He also lamented an impending problem of vaping addicts and how the healthcare industry will treat those individuals. Vaping does not carry as much of the risk of the components in cigarettes, but the amount of nicotine it delivers to users is often exponentially higher.
Schwebler said the business side of the tobacco issue for hospitals is that they lose money on every Medicaid case they treat.
"You can't be true to your mission when you cherry pick who you do and don't take care of," Schwebler said.
The lawmakers discussed a number of other issues and legislation – some positive and some not – at the chamber luncheon.
Frye and Perfect shared insight on how the sprawling casino gaming bill became law despite the significant financial hit it stands to create for southeastern Indiana riverboat gaming communities like Rising Sun and Lawrenceburg.
Perfect said the bill "went south" in the 11th hour. He said he has had assurances from the governor and Senate leaders that the gaming tax revenue implications of House Bill 1015.
"My understanding is that we are going to keep talking about this," Perfect told the citizens.
Estimates are that the City of Rising Sun stands to lose approximately $600,000 in gaming revenue under the wagering tax changes in HB 1015. Lawrenceburg could lose around $300,000.
"The bill was trying to help distressed properties like Rising Star," said Rising Sun Mayor Brent Bascom, who was in attendance. "That's why we are taking the brunt of it."
Luckily, a two-year delay before the tax changes take effect gives lawmakers time to negotiate a solution.
"We have to get our act together and figure out what to do about it," said Frye, adding he was upset with how the bill was altered to the detriment of local casino host cities on the final day of the session.
The proposed Fourth Port project in Lawrenceburg was also touched on briefly after a question on its progress from Southeastern Indiana Port Authority board member Tom Palmer. Brownfield redeveloper Commercial Development Company subsidiary Tanners Creek Development has been conducting environmental remediation of the former coal-fired Tanners Creek Power Plant site since 2016.
Ports of Indiana entered a purchase agreement with the company for the 725-acres of land in September 2017. The $8 million agreement was extended last November. That extension is due to expire on June 30.
Frye, a player in the effort to bring a new port to the Ohio River in southeastern Indiana, anticipates another extension of the purchase agreement by Ports of Indiana and CDC.
"Until the thing is cleaned up to a standard that we can accept it, we're waiting for it to get cleaned up," said Frye. "I talk to IDEM a lot and they tell me that lots is being done."
Perfect chimed in that he is a firm believer in supply and demand, and existing ports in Indiana are "killing it."
"The market wants it and that's why I think it will move forward," said Perfect.
Responding to a question about new truck traffic which could result from a port in Lawrenceburg, Frye said that an extension of State Road 101 from U.S. 50 down to the Markland Dam is in the works.
RELATED STORIES:
Indiana Lawmaker: Cigarette Tax Hike Not Likely
Poll: Majority Of Hoosiers Support Raising Cigarette Tax To $2 Per Pack
AUDIO: State Rep. Frye Laments Negative Impacts Of Gaming Bill
SEI Casino Towns Hit Hard: Lawmakers Pass Sports Betting, Casino Gaming Bill After Last Minute Changes
Ports Of Indiana, Tanners Creek Development Extend Purchase Agreement