State Rep. Randy Frye is still irked by the lack of consideration given to southeastern Indiana casino host communities. Listen to his interview on Eagle Country 99.3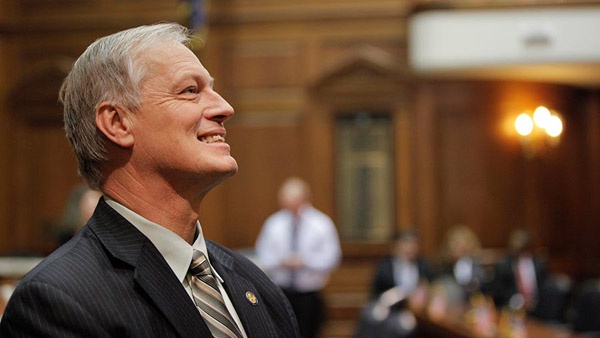 State Rep. Randy Frye. File photo.
(Lawrenceburg, Ind.) – It might have been considered a fairly successful 2019 legislative session for southeastern Indiana, if not for a last-minute change to a casino gaming and sports betting bill.
State Representative Randy Frye (R-Greensburg) provided a review of the 2019 legislative session on Eagle Country 99.3 on Friday morning. Much of the discussion with morning show host Bubba Bo centered around House Enrolled Act 1015 and the manner in which it passed on the final day of the legislative session.
Frye and other area lawmakers were stunned when the bill emerged from a final day conference committee – where House and Senate versions of bill are reconciled into a final bill – with significant changes.
Some of those unanticipated changes may negatively impact southeastern Indiana casino host communities Lawrenceburg and Rising Sun.
"Normally there is no new language that gets put into a bill (in conference committee). Normally the things that got put in get deleted out until you get an agreement. But in this case, our held harmless money – your listeners are aware held harmless is money (casino host communities) receive back from the state – it is an agreement we have had for years that provides local riverboat gaming revenue to our local communities. That hold harmless was cut and it was done without testimony. It was done in about two hours," said Frye.
LISTEN TO EAGLE COUNTRY 99.3'S INTERVIEW WITH RANDY FRYE ABOUT GAMING LEGISLATION, THE NEW STATE BUDGET, REGIONAL JAILS, AND MORE:
Frye said "those who wanted it" put items into the bill that other lawmakers wanted in order to get it passed.
"That was the strategy," Frye suspected.
The southeastern Indiana lawmaker's main beef with the bill is that other casino communities received hold harmless considerations protecting their gaming revenues, however, others did not.
The predicted impact of HEA 1015 on Rising Sun, home of Rising Star Casino, is a decline of more than $600,000 in annual gaming revenue. That figure is nearly half of the city's annual revenue from riverboat gaming.
Lawrenceburg would take a lighter hit of about $500,000, a much smaller chunk of the millions more the city receives from gaming than does Rising Sun.
Frye said the legislation does include a tax break for Rising Star Casino which should make the state's smallest casino more profitable for owner Full House Resorts. Executives for the Las Vegas-based company have expressed interest in opening a casino in Terre Haute as a way to succeed in Indiana.
"They paid for it – they being some of my colleagues in the general assembly – by taking money away from Rising Sun and Ohio County instead of taking it out of the general fund or across the state," Frye said.
He believes the reduction in revenue from the casino tax cut should have been taken from the $33 million which goes to counties without a riverboat each year instead of one of Indiana's smallest communities.
HEA 1015 legalizes sports betting in Indiana starting September 1, 2019. Sports wagering will be taxed at 9.5 percent, all going to the state and none to casino communities where sports books will be located. A 3.3 percent portion of that sports betting revenue is required to go toward gambling addiction services.
It also allows a new casino to be built in Terre Haute, assuming gaming is approved of by Vigo County voters in either November 2019 or May 2020. The Indiana Gaming Commission will oversee a competitive bidding process for the license, which requires a $5 million fee to be paid by the chosen casino operator.
Frye was not the only House member to vote against the bill. It passed by a 59-36 vote in the House.
House Ways and Means Co-Chairman Todd Huston (R-Fishers), who shepherded the legislation through the House, was among those voting against it. Huston told The Northwest Indiana Times he objected to the various hold harmless protections in the proposal and the impacts on casino communities.
"Holistically, it became a little much for me," Huston told the newspaper.
"There's nothing in the bill that I can't defend and I understand the public policy of it. I had some concerns about the long-term impacts of some of the provisions, but our caucus and their caucus both felt like this was the best gaming policy, and I wanted to make sure that I advocated for that."
Other southeastern Indiana lawmakers voted against HEA 1015, including state senators Chip Perfect (R-Lawrenceburg) and Jeff Raatz (R-Richmond) and State Rep. Randy Lyness (R-West Harrison).
Those supporting the bill included State Rep. Cindy Zeimke (R-Batesville) and State Senator Jean Leising (R-Oldenburg).
HEA was formally received by Governor Eric Holcomb on May 1 and is now awaiting his signature into law. The governor could opt to allow the bill to become law without his signature if he does not sign or veto it within seven days, or by May 8.
The local revenue provisions in the bill do not take effect until 2021. Frye said he and State Senator Chip Perfect (R-Lawrenceburg) will work to get the hold harmless provisions for southeastern Indiana riverboats restored.
"We have a couple plans. Let's hope one of them works," Frye said.
RELATED STORIES:
SEI Casino Towns Hit Hard: Lawmakers Pass Sports Betting, Casino Gaming Bill After Last Minute Changes
With Deadline Nearing, Negotiations Continue For Sports Wagering, Terre Haute Casino
Sports Betting, Casino Gaming Bill Passes Indiana House
Amended Casino, Sports Betting Bill Going To House Floor
Casino Gaming Bill Moves On As SEI Casino Execs Share Perspectives
Lobbyist Updates Lawrenceburg Council On Gaming Legislation
Modified Casino Relocation, Sports Betting Bill Passes Senate
"Biggest Change In Casino Gaming" Bill Unanimously Passes Senate Committee
This Year's Gaming Bill Could Let Indiana Casinos Compete For Terre Haute Satellite Location
CEO Suggests Relocating Rising Sun Casino If Lawmakers Won't Let Unused Games Go To Terre Haute