The Indiana Senate Public Policy Committee voted to advance Senate Bill 552 on Wednesday.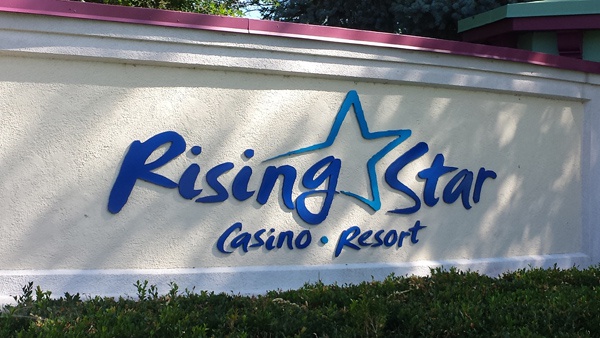 File photo.
(Rising Sun, Ind.) - A bill which could send some of the slots and table games collecting dust at Rising Star Casino in Rising Sun elsewhere has passed an Indiana Senate committee.
The Senate Public Policy Committee vote on Senate Bill 552 was a unanimous 10-0 on Wednesday. The legislation authored by senators Mark Messer (R-Jasper) and John Ford (R-Terre Haute) is being called the biggest potential change to Indiana casino gaming since it was legalized in the 1990s.
The bill would send one of the casinos from Gary down to Terre Haute, if Vigo County voters would approve. Lawmakers say numbers show that the casinos in Gary are underperforming.
It would also allow other Indiana casinos, including Rising Star Casino, to compete for the ability to place some of their games at a Terre Haute casino. Rising Star Casino executives have lobbied in favor of the bill.
A similar bill failed on a 5-5 vote in committee last year. That proposal only gave Rising Star Casino the ability to split off some of its games to western Indiana, but this year's bill includes language allowing all Indiana casino license holders to compete for the opportunity.
State Sen. Chip Perfect (R-Lawrenceburg) has told Eagle Country 99.3 that the bill has a lot of moving parts.
"The casino operators would prefer the status quo, so there is some resistance to change. So far, at least, the big concern is to make sure that they continue to honor the deal we made in the last budget cycle to let the industry reach the new equilibrium with some of these changes before we start messing with some of the money that goes to local communities," said Perfect.
Chairman of the committee, Senator Ron Alting (R-Lafayette), said state casino revenue has declined from just over $600 million in 2012 to about $282 million last year.
Competition from casinos in other states and a new Indian tribal casino near South Bend are cited as major reasons for the declines. John Hammond with Hollywood Casino Lawrenceburg owner Penn National Gaming told the committee that jobs could be lost at the company's properties in Lawrenceburg and East Chicago.
Another provision of SB 552 would allow sports wagering in Indiana. Gamblers would have to be registered in order to bet in-person or online on professional or college sports. The Indiana Gaming Commission would deem which sports are eligible for betting. The legislation would prohibit betting on high school sports.
Executives with the Indianapolis Colts and IndyCar testified in favor of the bill.
SB 552 now heads to the Senate Appropriations Committee for further consideration.
RELATED STORIES:
This Year's Gaming Bill Could Let Indiana Casinos Compete For Terre Haute Satellite Location
CEO Suggests Relocating Rising Sun Casino If Lawmakers Won't Let Unused Games Go To Terre Haute