Southeastern Indiana's three riverboat casinos combined for $320 million in adjusted gross revenue last year.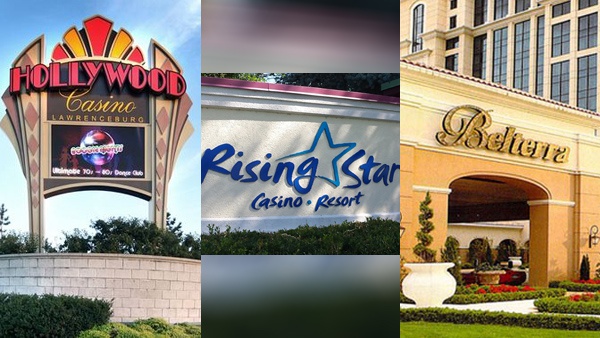 (Lawrenceburg, Ind.) - Southeastern Indiana's three riverboat casinos saw revenues remain flat in 2018.
New Indiana Gaming Commission data shows Hollywood Casino Lawrenceburg, Rising Star Casino in Rising Sun, and Belterra Casino Resort in Switzerland County combined to rake in $320 million in gross gaming revenue last year. It's a small, 0.4 percent decrease from 2017's take for the trio.
Hollywood Casino again enjoyed the largest share of southeastern Indiana's gaming market, despite a 1.3 percent decrease to $164.8 million.
The Lawrenceburg riverboat brought in a new general manager, former Jack Casino Cincinnati VP of Operations Rod Centers, in December.
Belterra Casino Resort was second in the region with $111.6 million. It was the only local riverboat to grow gaming revenue, which was up 2.0 percent compared to 2017.
The casino halfway between Cincinnati and Louisville changed ownership in October. Pinnacle Entertainment spun Belterra off to Las Vegas-based Boyd Gaming in an anti-trust avoidance move as Pinnacle was acquired by Penn National Gaming, which already owned Hollywood Casino in Lawrenceburg.
Rising Star Casino had the smallest market share with $44.1 million, a 3.3 percent decrease.
Like Hollywood, the Rising Sun property welcomed a new general manager Benjamin Douglass, who transferred last August from another Full House Resorts-owned casino in Nevada. The casino is hoping that the addition of an Ohio River ferry boat it operates will attract more gamblers from northern Kentucky by cutting down travel time. The MS Lucky Lady ferry transported more than 10,000 passengers in its first month of operation in September and October.
The Indiana Gaming Commission used to require casinos to report their monthly attendance for calculation of admissions tax, but no longer. A change in state law which took effect in mid-2018 eliminated the $3 per visitor admission tax paid to casino host communities in exchange for an increase in the wagering tax.
Southeastern Indiana's riverboats are continuing to see their market share dwindle in the face of competition across the Ohio state line. Jack Casino Cincinnati's 2018 revenue total of $203.4 million was well beyond Hollywood Casino Lawrenceburg. Miami Valley Gaming's $161 million in net win in Lebanon, Ohio was almost equal to Hollywood.