Full House Resorts president and CEO Dan Lee is asking Indiana lawmakers to allow games not being used in Rising Sun to be set up in Terre Haute.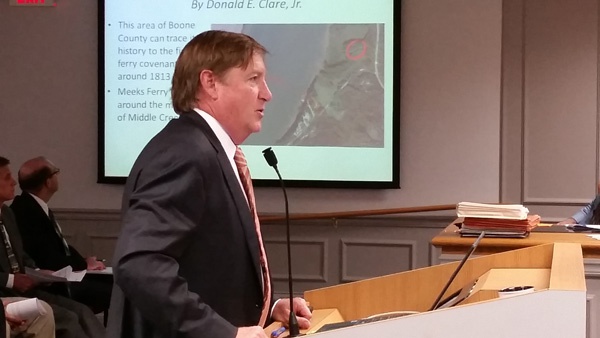 Full House Resorts president and CEO Dan Lee. File photo.
(Rising Sun, Ind.) – Rising Star Casino's parent company will again ask Indiana lawmakers for the opportunity to move unused games from Rising Sun to a prospective new casino in Terre Haute.
In the 2017 legislative session, Las Vegas-based Full House Resorts, Inc. backed a bill by Republican State Senator John Ford (R-Terre Haute) which would have authorized the replacement of up to half of the state-approved slots machines and table games from the riverboat casino in Rising Sun to a planned entertainment venue in Terre Haute.
That bill died in a senate committee. Some members of the committee had worries about allowing just one of the state's casino operators to capitalize on the opportunity in Vigo County.
But Full House Resorts isn't giving up so easily. The company announced to stockholders on Monday that it intends to reintroduce its proposal for a casino near Terre Haute.
There is, however, a new angle this time. Full House Resorts wants lawmakers to allow any Indiana casino company to compete for the opportunity.
According to Full House Resorts' announcement, each Indiana casino is using fewer table of its gambling games that existing gaming law allows. With each game simply collecting dust, it means the state may be missing out on millions in wagering tax revenue.
Full House Resorts president and CEO Dan Lee suggests utilization of more of Indiana's existing gambling games would generate millions of dollars in new tax revenue.
"We continue to invest millions of dollars in Rising Sun, but the expansion of gaming in neighboring states has ensured that many of our authorized games will never be needed in that market," Lee said.
But Lee's statement continued, suggesting that the Rising Sun casino could relocate to a less-saturated western Indiana casino market if lawmakers don't acquiesce.
"Rather than close and move the Rising Star Casino Resort, we would prefer to compete for the opportunity by relocating our unused games to a new facility in Terre Haute. We believe that creates a win-win for Rising Sun, Terre Haute, and all of Indiana."
Losing its casino would be devastating to Rising Sun and Ohio County, which have come to rely heavily on the tax revenue the riverboat has provided since it opened as Grand Victoria Casino in 1996.
Alex Stolyar, senior vice president and chief development officer for Full House Resorts, says Terre Haute is a prime location for the state's unused table games. Unlike the 2017 proposal, a new bill could allow each of Indiana's casino operators to vie for the opportunity, if they choose to.
"Since we began exploring opportunities in Terre Haute three years ago, we have been overwhelmed by the level of support that the city has shown for a gaming facility. We worked with the Terre Haute City Council, Vigo County Commissioners, Chamber of Commerce, and many other organizations to demonstrate that support to Indiana legislators. We have seen the recent reports that the new Majestic Star casino owners intend to pursue legislation to move their gaming assets from a single integrated casino in Buffington Harbor to two new locations, potentially including Terre Haute," said Stolyar.
A bill could be introduced in the 2019 legislative session, which begins the first week of January.
Full House Resorts has continued investing in Rising Star Casino. In September, the company introduced a new Ohio River ferry to make the casino more accessible to northern Kentucky gamblers. Last year, a $1.5 million, 56-space RV park opened at the casino property.
RELATED STORIES:
The Ferry Boat At Rising Sun, Rabbit Hash Is Now In Operation
Rising Star Casino RV Park Open For Business
Terre Haute Casino Bill, Which Wasn't All Bad For Rising Sun, Dies In Committee