Rising Sun and Lawrenceburg, impacted by wagering tax changes in House Bill 1015, did not receive consideration for hold harmless protections.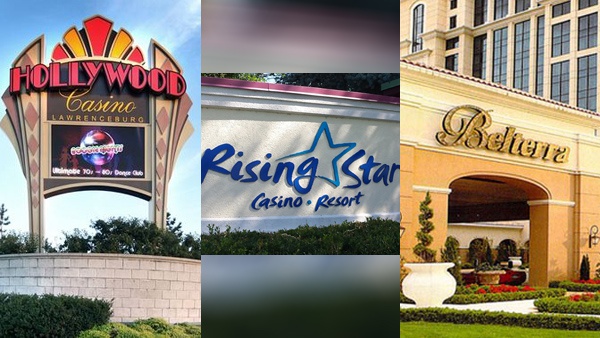 (Indianapolis, Ind.) - A gaming and sports betting bill passes the Indiana legislature despite opposition from southeastern Indiana lawmakers.
House Bill 1015 passed the House and Senate on Wednesday, the final day of the 2019 legislative session. The vote was 59-36 in the House and 37-12 in the Senate, with the "no" votes coming from southern Indiana legislators whose districts include casino communities like Lawrenceburg and Rising Sun.
The legislation legalizes sports betting for those over age 21 starting in September – a move other states are making following the U.S. Supreme Court's 2018 decision on sports wagering. Sports books can be licensed to each of Indiana's casinos by the Indiana Gaming Commission, but bets could be placed from phones and mobile devices registered at a casino.
It also allows a casino to be built in Terre Haute with Vigo County voter approval. One of Gary, Indiana's two Lake Michigan casinos can move inland while one of the licenses transfers to Terre Haute.
Additionally, the bill reduces the wagering tax rate casinos pay starting in 2021 and allows horsetrack racinos in Shelbyville and Anderson to add live table game dealers January 1, 2020, a year earlier than allowed under a 2017 law.
Eleventh-hour changes to the bill caught local lawmakers off guard before it came up for final votes Wednesday.
"There was a lot of deal-making to get it passed," State Senator Chip Perfect (R-Lawrenceburg) said Thursday morning. "We weren't really considered the way we should have been."
The lower wagering tax starting in 2021 and racino table games coming sooner aren't beneficial for southern Indiana casino host communities' tax revenues. Traditionally, casino legislation impacting local revenues has included "hold harmless" language guaranteeing those communities would not suffer drastic decreases in tax revenue.
This time, that happened in HB 1015 for northern Indiana casino communities, but not for those in southern Indiana.
"How did that happen? I have no idea right now," a clearly perturbed Frye said Thursday, adding the bill was fine until amendments were made in the conference committee report just two or three hours before the vote.
Frye says Rising Sun stands to lose $600,000 in gaming revenue under the wagering tax impact of HB 1015 – roughly half of the city's annual casino revenue. Rising Sun Mayor Brent Bascom voiced frustration on social media:
In Lawrenceburg, where the tax rate differs from that in Rising Sun because of Hollywood Casino Lawrenceburg's higher revenue, the loss could be $500,000. But that's a much smaller percentage of the more than $10 million in gaming revenue to Lawrenceburg.
"I don't understand how you can take that kind of money from a community like Rising Sun and Ohio County but we are doing all this other stuff. You read that bill and you almost shake your head," said Frye.
Perfect said the state should absorb the impacts more than southeastern Indiana.
"The state is getting a win in there being another casino in Terre Haute. The state is getting a win in the situation in Gary where they are going to get a license back and move to a more profitable location," he explained.
Another win for the state is that it will receive all of the 9.5 percent wagering tax revenue from sports betting, with just 3.3 percent of that revenue to go toward gambling addiction services.
The local lawmakers are not opposed to wagering tax cuts for casinos, which are among the most highly-taxed businesses in Indiana. Frye said the taxes shouldn't be punitive, especially for the state's smallest casino in Rising Sun, which is the largest employer in Ohio County.
"We squeeze those operators pretty hard from a tax perspective," Perfect agreed.
But the lack of protections for the host communities here is what irks them.
The saving grace is that the wagering tax reduction won't go into effect until 2021. Both Frye and Perfect are vowing to fight for considerations for local communities.
"Like in the past, we delay the implementation of those changes for a couple of years basically to buy some time so we can sort it out on who is going to absorb those reductions," said Perfect.
The Lawrenceburg Republican said he has received commitment from HB 1015 House sponsor State Rep. Todd Huston (R-Fishers) to continue the discussion on the local impacts.
Northern Indiana lawmakers supported HB 1015, including State Senator Eddie Melton (D-Gary), who called it an economic development catalyst creating 400 new gaming and hospitality jobs in Gary and northwest Indiana.
"I know it's not easy trying to balance all of the interests and concerns of the communities and various stakeholders, so I commend Senator Messmer for his efforts on this bill, especially his ability to incorporate language to protect the communities with existing casinos," said Melton.
Frye said he asked other lawmakers how more consideration could not be given to this area.
"There are not enough votes in southeastern Indiana to matter," he said. "They just run over us."
Language establishing a competitive bidding process for the Terre Haute casino opportunity remains in the bill. Executives for Rising Star Casino owner Full House Resorts had on multiple occasions stated the company was interested in bidding for Terre Haute's casino. Spectacle Entertainment, owner of the Gary casinos who is surrendering one of those licenses to Terre Haute, is also expected to compete.
Frye says he thinks it is a done deal who will get the Terre Haute license being transferred from Gary. He did not indicate which operator that will be.
Another provision in the bill raises the cap on the number of casinos a company can be licensed to operate from two up to six.
HB 1015 now heads to Indiana Governor Eric Holcomb for possible signature into law. Holcomb has not committed to signing the legislation.
RELATED STORIES:
With Deadline Nearing, Negotiations Continue For Sports Wagering, Terre Haute Casino
Sports Betting, Casino Gaming Bill Passes Indiana House
Amended Casino, Sports Betting Bill Going To House Floor
Casino Gaming Bill Moves On As SEI Casino Execs Share Perspectives
Lobbyist Updates Lawrenceburg Council On Gaming Legislation
Modified Casino Relocation, Sports Betting Bill Passes Senate
"Biggest Change In Casino Gaming" Bill Unanimously Passes Senate Committee
This Year's Gaming Bill Could Let Indiana Casinos Compete For Terre Haute Satellite Location
CEO Suggests Relocating Rising Sun Casino If Lawmakers Won't Let Unused Games Go To Terre Haute