The new deadline on a sale of the potential Fourth Port site is June 30, 2019.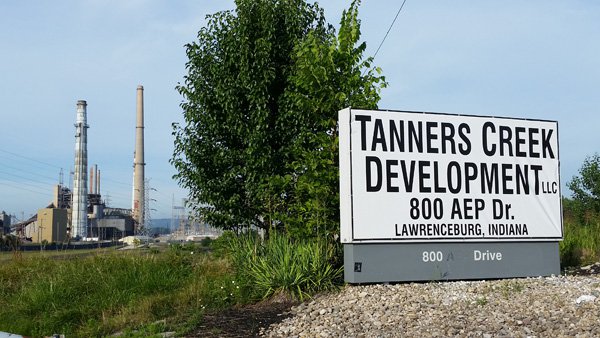 The former American Electric Power Indiana Michigan Power Tanners Creek Power Plant property in Lawrenceburg could eventually be home to Indiana's third port on the Ohio River. File photo.
(Lawrenceburg, Ind.) - Ports of Indiana wants a little more time before moving ahead with a new port on the Ohio River in Lawrenceburg.
In September 2017, Ports of Indiana entered into an agreement to purchase the 725-acre former Tanners Creek Power Plant property from Tanners Creek Development, LLC. The purchase price is around $8 million.
The agreement was set to expire at the end of this year, but on Thursday, Indiana Governor Eric Holcomb announced that the two parties have entered an agreement to extend the purchase option up to six months
The governor's office says the extension provides Tanners Creek Development through June 30, 2019 to finalize "environmental work plans for the land."
Multiple landfills on the tract between the river and U.S. 50 in Lawrenceburg contain millions of tons of coal ash byproduct from six decades of power generation of the former power plant. In July, four Indiana environmental groups issued a report that the lined and unlined ash ponds pose a risk to underground water. Two local utilities, Aurora Utilities and Lawrenceburg-Manchester-Sparta Conservancy, have drinking water wellheads within a mile of the ash ponds.
Tanners Creek Development, a subsidiary of brownfield redeveloper Commercial Development Company, has filed ash pond closure plans with the Indiana Department of Environmental Management, however, the plans' approval is being held up over federal litigation on ash pond closure.
According to Holcomb's office, the former American Electric Power plant property has "the potential to spur the economy of southeast Indiana by providing new jobs, multimodal connections to world markets, and development opportunities."
The success of Indiana's three existing ports in Jeffersonville, Mount Vernon, and Burns Harbor indicates that a fourth port could be successful. Those three ports contribute over $7.8 billion per year to the state economy and support nearly 60,000 jobs.
RELATED STORIES:
IDEM: Lawrenceburg Ash Pond Closure Plan On Hold As Federal Cases Linger
Public Hearing For Tanners Creek Ash Pond Closure Plan Could Happen Oct. 11
Environmental Groups Urge IDEM To Deny Revised Fly Ash Pond Closure Plan
Tanners Creek Development, IDEM Answer Citizens On Fly Ash, Groundwater
After Out-Of-State Fly Ash Halted, Questions Over What's Already In The Ground At Tanners Creek