The revision reduces the overall footprint of the project and separates interstate and local traffic.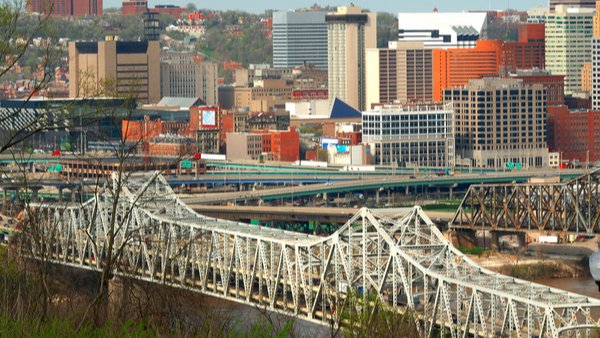 Shutterstock photo.
(Frankfort, Ky.) – Kentucky Governor Andy Beshear and Ohio Governor Mike DeWine have unveiled revamped plans for the Brent Spence Bridge Corridor Project.
The revised plan released on Friday shows a reduced footprint for the new Brent Spence Companion Bridge and proposes new lane configurations to improve safety and travel between Ohio and Kentucky.
A companion bridge has been in the works for quite a while. In 2012, the Federal Highway Administration (FHWA) approved a plan for a new bridge to the west of the existing Brent Spence Bridge.
At the time, the new bridge was planned to cover nearly 25 acres and span nearly 150 feet in width. Revised plans show the new bridge at almost half the size of the 2012 footprint, covering approximately 14 acres and 84 feet in width.
Other changes include widened emergency shoulders to safely stow stalled vehicles and 12-foot shoulders.
Additionally, interstate and local traffic are separated with the new companion structure carrying I-71/75 traffic and local traffic using the existing structure.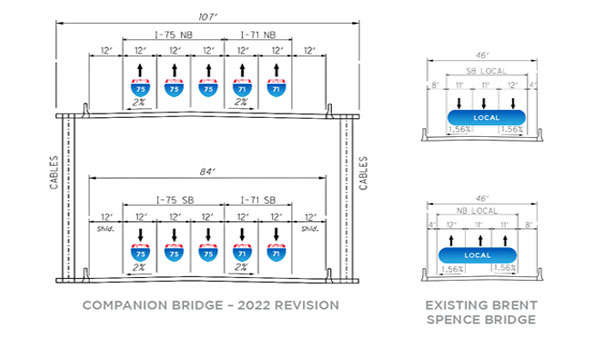 "While this is a nationally significant project, it is still very much a community-minded project," said Gov. Beshear. "Our teams have gone to great lengths to shrink property impacts while still delivering a solid solution to the traffic congestion issues in the region."
"It has been important from the beginning to make sure we're meeting the needs of today and tomorrow while also being mindful about the impacts this project has on surrounding properties," said Gov. DeWine. "I will continue to challenge our teams to look for additional ways to further these goals."
Except for one commercial property, some railroad-owned land, and the negotiation of two utility owned properties, all parcels needed for the project have been acquired on the Ohio side of the project.
On the Kentucky side, the number of impacted parcels was reduced significantly following the 2022 plan revisions. There are 38 impacted properties on the southern side (one is a residential relocation) and plans on the northern section are still being reviewed.
A second federal grant application is expected to be submitted by August 9.
The project team hopes to break ground on the companion bridge by the fall of 2023.
Total project cost is estimated at $2.77 billion.
For more information, visit Working Together to Improve the Brent Spence Bridge Corridor | Investing in Local Communities, Growing America's Economy.
RELATED STORIES
Kentucky, Ohio Governors Request Federal Funding for Spence Bridge Companion Project
Beshear, DeWine Seeking $2 Billion in Federal Funding for Spence Bridge Project
Gov. Beshear Budget Plan Includes Brent Spence Companion Bridge