The project would include the construction of a companion bridge.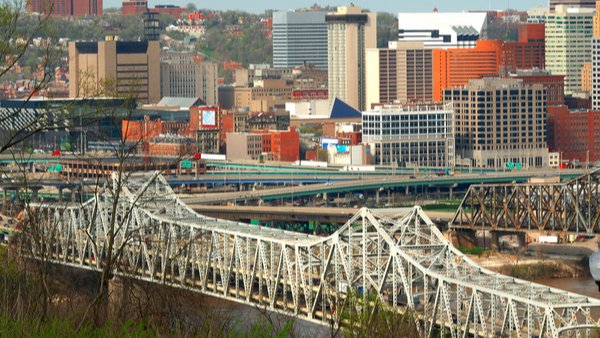 Shutterstock photo.
(Covington, Ky.) – Kentucky Governor Andy Beshear and Ohio Governor Mike DeWine will jointly pursue $2 billion in federal funding to help alleviate traffic congestion on and around the Brent Spence Bridge.
The Spence Bridge links Covington, Kentucky to Cincinnati, Ohio, but often is the topic of conversation due traffic headaches caused by the amount of vehicle that cross the bridge daily, crashes, and projects such as the latest maintenance project that was completed in November.
Governor Beshear and Governor DeWine plan to request up to $2 billion in funding from the U.S. Department of Transportation for the Brent Spence Bridge Corridor Project.
The project would not replace the Brent Spence Bridge because the bridge remains structurally sound. However, the new funding would cover the bulk of the cost for KYTC and ODOT to construct a new companion bridge to the west of the current bridge.
The project would add much-needed capacity by separating local and through traffic to ease the ongoing traffic backups.
The Spence Bridge was constructed in the 1960s to carry around 80,000 vehicle a day, but the daily I-75 and I-71 traffic load has grown to 160,000 vehicles in recent years.
As part of today's announcement, Governors Beshear and DeWine signed a memorandum of understanding confirming the states' intention to work together on the bridge project.
"With today's signing, the Commonwealth of Kentucky and the State of Ohio are aligning our efforts to make this project a reality," said Gov. Beshear. "This memorandum spells out our obligations and positions us to quickly apply for these federal dollars, which will allow us not only to build this new bridge, but to do it without tolls! And just as important: This project shows what we in government can do when we embrace cooperation and progress and simply do what is best for our people."
"For decades, the backups on the Brent Spence Bridge have frustrated drivers, hindered economic development and slowed supply chain deliveries. Today, a solution is in reach, and we are committed to aggressively working together to secure this funding to help us fix this transportation nightmare once and for all," said Gov. DeWine. "Not only will this project improve quality of life for drivers in Ohio and Kentucky, but keeping this major transportation network open and moving will also have a significant positive impact on our national economy and national security."
The states will apply for the federal grant funding together once application guidance is released by the U.S. Department of Transportation. If funding is granted, both states have agreed to contribute any required matching funds.
The memorandum signed on Monday directs transportation officials in both states to begin preparations for construction. A more detailed interstate agreement will be signed later this year.
A preferred alternate for a new companion bridge has already been approved (2012). The current anticipated project cost is $2.8 billion.
For more information, visit 20220228_Brent-Spence-Bridge-Corridor-Fact-Sheet.pdf (ky.gov).
RELATED STORIES
Gov. Beshear Budget Plan Includes Brent Spence Companion Bridge