The governors are seeking $1.66 billion towards the $2.77 billion project.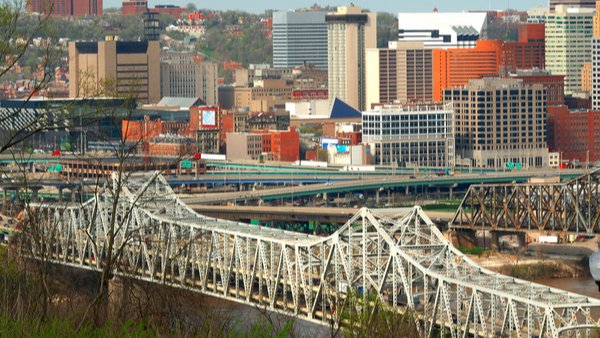 Shutterstock photo.
(Frankfort, Ky.) – Kentucky Governor Andy Beshear and Ohio Governor Mike DeWine have jointly applied for funding for the Brent Spence Bridge Corridor Project.
In February, the governors announced they would pursue $2 billion in federal funding to make much-needed improvements to the Brent Spence Bridge Corridor.
In an announcement on Tuesday, Governor Beshear said Kentucky and Ohio are seeking $1.66 billion through the Multimodal Projects Discretionary Grant. The grant request represents approximately 60 percent of the remaining $2.77 billion project cost with each state allocating significant state dollars and other federal funds towards the project.
The Brent Spence Bridge Corridor project includes the construction a companion bridge next to the existing Brent Spence Bridge to improve traffic flow and safety.
"Ohio and Kentucky are working together to seize this once-in-a-generation opportunity to improve the quality of life for the millions of Americans who use the federal highway system to travel between our two states," said Governor Beshear. "I pledged to fight for every available federal dollar and have a shovel-ready project once funding is secured. The time is now to invest in transformative infrastructure that supports our growing workforce and safe travel along one of the nation's most important commerce corridors."
"The Brent Spence Bridge Corridor is a vital centerpiece to the interstate system of the United States, and we are optimistic that the federal government will recognize the importance of this project for both our national economy and national security," said Governor DeWine. "With the current supply chain crisis in our country, the issue of ensuring that this major transportation corridor stays open and moving has never been more urgent."
The Kentucky Transportation Cabinet and the Ohio Department of Transportation have said engineering work on the project will move forward as the federal government considers the application.
Both organizations continue to work on acquiring property needed to construct the project.
For more information on the project, visit BSB-Corridor-Fact-Sheet.pdf (ky.gov).
RELATED STORIES
Beshear, DeWine Seeking $2 Billion in Federal Funding for Spence Bridge Project
Gov. Beshear Budget Plan Includes Brent Spence Companion Bridge