Brandon Snodgrass will replace Rich Scholl after just two years at Rising Sun.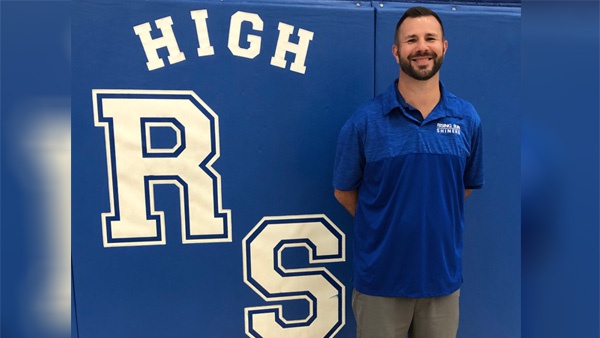 Brandon Snodgrass has been hired as Rising Sun's new boys varsity basketball head coach. Photo by Rising Sun Athletics.
(Rising Sun, Ind.) - Rising Sun is the latest of four area schools to hire a new boys varsity basketball head coach.
Lawrenceburg, Rising Sun, South Dearborn and Switzerland County, also known as the Rivertown teams, were left without coaches after the resignation of John Blackwell, Rich Scholl, Kevin Reinhardt and Adam Dennis, respectively.
Rising Sun was the last to end its coaching search on Friday when the school announced the hiring of Brandon Snodgrass. He will replace Rick Scholl who led the Shiners to their first Rivertown Classic title in 2019.
"I have had my eye on Rising Sun the past couple of years," Snodgrass told Eagle Country 99.3 "My uncle used to coach at South Ripley so I am somewhat familiar with the area. I know Rising Sun has had some good teams and I would like to bring that back to the community. I like how the community is very close and supports their teams. I hope to have a full gym on Friday and Saturday nights cheering on our boys. I really would like to build a culture of winning and helping my players turn into respectable young men."
Snodgrass will inherit a Shiners team that finished 4-19 last season. Among the top returning players are Landon Cole, Chris Bowne and Peyton Merica.
"I heard that I have a great group of players returning who are very good athletes," said Snodgrass. "Players who are very good at defense and have something to prove. I am very excited to meet them and get the ball rolling."
Athletic director Abby Friend tells Eagle Country that Snodgrass comes to Rising Sun with nine years of teaching experience and eight years of coaching experience.
Snodgrass' last coaching stop was at Jeffersonville High School as the boys junior varsity coach and varsity cross country coach. Now that he is heading up his own program, Snodgrass hopes to create a winning culture at Rising Sun.
"I am looking to build a culture of winning/success but also a culture that helps turn boys into young men," said Snodgrass. "That will happen through hard work, showing sportsmanship, being proactive in the public, and supporting the other teams/sports. We will dress for success and play with heart."
With a new coach, a new style of play is usually the norm. Snodgrass tells Eagle Country 99.3 that his team will be aggressive on the offensive and defensive end of the floor.
"I am very energetic and my style will reflect that, said Snodgrass. "Our kids will play with full energy and aggressiveness on defense. We will look to create turnovers with our active hands and willingness to dive after loose balls. On offense, we will look to push the ball quickly upcourt and attack if the opportunity is there. If we have nothing we will look to run our offense."
As for off the court, Snodgrass will also serve as a special education teacher.
RELATED STORIES:
South Dearborn Names New Boys Varsity Basketball Head Coach
Brad Cutter Named LHS Boys Basketball Head Coach
Switzerland Co. Tabs Familiar Name To Fill Boys Basketball Head Coach Vacancy
Rick Scholl Out As Rising Sun Boys Basketball Coach
Switzerland Co. Boys Basketball Coach Resigns
Kevin Reinhardt Resigns As SD Boys Basketball Head Coach
John Blackwell Resigns After Eight Seasons As LHS Boys Basketball Head Coach