Matt Colston is ready to build a winning program in Aurora.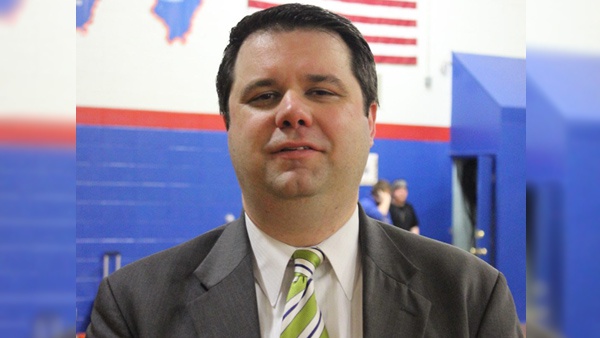 Matt Colston. Photo by South Dearborn Athletics.
(Aurora, Ind.) - South Dearborn High School is the latest are school to hire a new boys varsity basketball head coach.
Matt Colston was selected by the school board to head up the Knights program after several successful seasons coaching in the state of Illinois. Colston will replace Kevin Reinhardt, who resigned last month after three years at South Dearborn.
Colston has 11 years of head coaching experience, including a very successful six year stint at Hoopeston Area High School.
From 2012-2018, Colston led the Cornjerkers to a 101-72 record, including back-to-back 20-win seasons.
Colston has made two other stops in his coaching career at Bushnell and most recently at Shelbyville, Illinois, where his team finished 9-22 this past season.
His past programs have been built around a culture of hard work and togetherness.
"We want a competitive, family atmosphere where players can reach their full potential," Colston said. "If you want to be a basketball player, South Dearborn is going to be the place for you. The main thing we will push is developing gym rats and being committed. We want to represent the community with class and give them a program that they can be proud of."
South Dearborn hopes to find some consistency with their head coach. Since 2000, the Knights have had seven different head coaches. For Colston, he wants to be in a place where basketball is important.
"I've had an interest in coaching in Indiana since I got into the profession," said Colston. "Hoosiers was my favorite movie growing up and Indiana high school basketball has always had a mystique in my mind. I'm a basketball guy so I want to be at a place where it's important. I also really like the Cincinnati area and moving the family into the area was really attractive. Being able to jump in the car and go to a Reds game or to head over to the Aquarium in Newport was something I thought would be good for the family."
As for on the floor, Colston will inherit a group that finished the 2019-20 season with an 11-14 record and an appearance in the Class 3A Sectional 29 championship game.
"Walking into a new place, I don't want to develop too much of a preconceived notion on the kids, said Colston. "I want to look at the players with a fresh set of eyes and let them compete for everything. Opportunities are available for guys that want it. With that said, the kids played hard and competed. They had pretty good body language and I saw some definite talent. The key thing with this group of kids for next year will be having great attendance this July at our summer stuff so they can learn and get comfortable with our defensive system especially, but also our offensive stuff, and getting a lot of shots up on their own between now and the start of the season. If the players do that we can hit the ground running in November."
While opportunity will be there, Colston sees potential in returning players such Eli Hoffman, Reese Willoughby, Tobie Teke and Quentin Stevens.
"The returning players have talent and a lot of potential from what I've seen, said Colston. "We want to be highly competitive and win right away. It will take a little time, but we want to develop a consistent program that can compete at the highest level and these kids can get us there. I think South Dearborn will be a great place to work and has all the elements to build the type of basketball program I want to build."
Anyone interested in joining the basketball program should contact Coach Colston directly at matthew.colston@sdcsc.k12.in.us.
RELATED STORIES:
Brad Cutter Named LHS Boys Basketball Head Coach
Switzerland Co. Tabs Familiar Name To Fill Boys Basketball Head Coach Vacancy
Rick Scholl Out As Rising Sun Boys Basketball Coach
Switzerland Co. Boys Basketball Coach Resigns
Kevin Reinhardt Resigns As SD Boys Basketball Head Coach
John Blackwell Resigns After Eight Seasons As LHS Boys Basketball Head Coach