Blackwell certainly left his mark on the program with a 102-87 record and five Rivertown Classic Championships.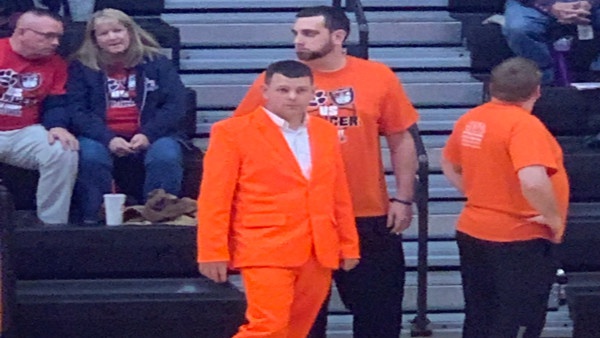 The only time Coach Blackwell wore the all orange suit.
(Lawrenceburg, Ind.) - After eight years of coaching at his alma mater, John Blackwell has resigned as Lawrenceburg boys varsity basketball head coach.
Blackwell submitted his resignation this week, which will be effective Monday, April 13.
"Being the head coach in the community I lover the most has been a true honor and I'm grateful for all the great relationships I was able to form, most special of those the players and coaches that were part of our teams," said Blackwell.
In his eight years at LHS, Blackwell recorded 102 wins to 87 losses. Under Blackwell, the Tigers won five of the last six at the Rivertown Classic, including four-straight between 2015-2018. Lawrenceburg currently holds the record for the most RTC Championships with eight. Blackwell also recorded winning seasons in six of his eight years.
Another thing that won't go unforgotten for Coach Blackwell and those around the Tiger program is the Coaches vs. Cancer fundraiser that he spearheaded this past season. Leading up to the Tigers regular season matchup with South Dearborn, the two communities came together for multiple fundraising events, raising over $15,000 to donate to the Coaches vs. Cancer initiative.
"There is no doubt that I will miss it, but I'm also excited about the time it will free up for myself as I balance all the different roles in my life," said Blackwell. "The program is healthy with great kids and good players at all levels. Now is a good a time as any to hand it over to whoever is next and I hope to see the program to continue to succeed on and off the court and go to heights that we weren't able to."
The next coach will inherit a strong junior class that features Garrett Yoon, Jackson Bobo, Dahya Patel and Ashton Craig.