These two teams are no stranger to one another when it comes to postseason play.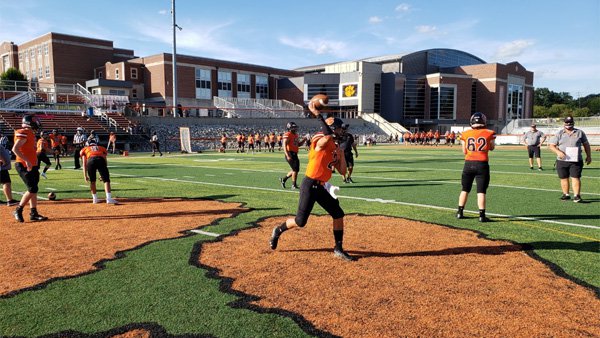 Quarterback Garrett Yoon looks to lead the Lawrenceburg Tigers to another sectional championship in 2020. Photo by Travis Thayer, Eagle Country 99.3.
(Lawrenceburg, Ind.) - If history tells us anything, tonight's matchup between Lawrenceburg and Brownstown Central could be one for the ages.
Sectional play gets underway Friday with a big-time matchup in Class 3A's Sectional 31, where the #5 Lawrenceburg Tigers (8-1) will host the Brownstown Central Braves (6-2) and their unique spinner offense.
These teams are no stranger to one another, meeting in the IHSAA Football State Tournament twice in the last four seasons and seven time dating back to 1995.
In that time span, the Tigers hold a 5-2 playoff record against Brownstown Central, including an improbable comeback in the 2005 sectional final. Led by Matt Richardson, Ricky and Randy McAdams, and Brad Seymour, the Tigers rallied from a 24-0 deficit with less than six minutes left in the 4th quarter to defeat the Braves 30-24 in overtime.
"I remember being at that game and watching my classmates make that incredible comeback," said Travis Thayer, news director at Eagle Country 99.3. "It all happened so quickly, it felt like a dream. Next thing I know, I'm out on the field congratulating my classmates on winning a sectional title."
Brownstown Central would get their revenge on Lawrenceburg with a 14-7 sectional win in 2009.
Fast forward seven seasons and the two teams matched up again, this time with a state championship appearance on the line. The Tigers stopped a two-point conversion try by Brownstown Central with no time left in regulation to win the game 41-40.
Will history repeat itself tonight with another instant classic? Time will tell, but the matchup is intriguing.
Lawrenceburg comes in winners of eight-straight. They have crushed most of their opponents this season with the exception of a loss to East Central, and narrow wins against Mount Healthy and South Dearborn.
"In order to put points up on the board, you have to have some playmakers and we have plenty of those on the offensive side of the ball, but I think the side that may be overlooked a little bit is our defense," said Coach Knigga.
The Tigers top playmakers have been quarterback Garrett Yoon, running back Adam Burd and wide receivers Dayha Patel and Aiden Gilmour. On defense, Lawrenceburg is led by a stout front-four of Ethan Parris, Ashton Craig, Brayden York and Wyatt Hartman.
HEAR BUBBA BO'S FULL INTERVIEW WITH COACH KNIGGA IN THE AUDIO PLAYER BELOW
The Tigers rank 9th in Class 3A in scoring (37.4 ppg) and 6th in scoring defense (allowing 12.4 ppg). Their margin of victory ranks in the top 10 in Class 3A at 25 points.
For Brownstown Central, they are averaging 40.1 points per game by primarily running the ball. Coach Reed May's spinner-style offense is averaging 353 rushing yards per game.
The Braves offense is led by spinners Lucas Hines, Jayden Steinkamp and Nicholas Robbins, along with quarterback Kiernan Tiemeyer. Brownstown's 3-5-3 defensive is led by Hines, who will feature at middle linebacker (90 tackles) behind defensive ends Sean Burton and Cole Darlage.
"There's no doubt they want to run the ball. We've seen this show before. It's one that will drive you crazy and keep you up at night when they are spinning around in the backfield and you never no where the ball is going. We think we have a good game plan, the kids have had a good week of practice, and we're definitely have to stop their run game if we are going to be successful tonight."
Tonight's game with air on Eagle Country 99.3 with pre-game coverage beginning at 6:30. Kickoff will follow at 7:00 sharp.