A once-in-a-lifetime listing has just hit the market in Dearborn County.
(Dillsboro, Ind.) – You could argue that this is one of the most unique real estate listings to ever hit the market in southeastern Indiana.
How would you like to purchase a former Nike anti-aircraft missile base complete with an underground residence for $850,000?
The base located along State Road 262 in Dillsboro was constructed in 1958 as the Cold War was ramping up. Project Nike by the U.S. Army was a line-of-sight anti-aircraft missile system with bases constructed across the nation.
"There were 21 missiles on this site. The one in the center, three to the left, three to the right. Elevator comes back down. The next missile is shoved onto the elevator. Up and fire until all the missiles are exhausted," says realtor Jay Knowles with Kelly Williams Realty Services.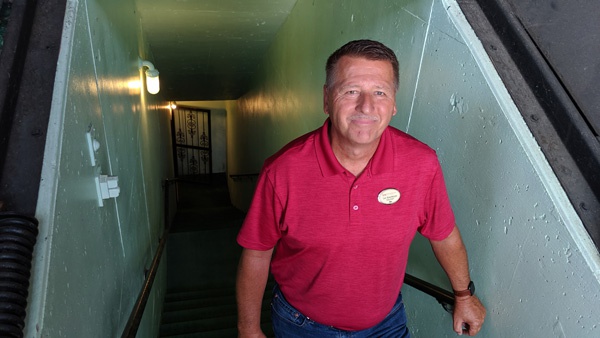 Realtor Jay Knowles with Keller Williams Realty Services is seeking a buyer for a former U.S. Army Nike missile base in Dillsboro, Indiana. Photo by Mike Perleberg, Eagle Country 99.3.
There haven't been missiles there in decades. The Army decommissioned the 14.5-acre site in the late 1970s.
It was then purchased by a family who converted one of the three underground missile silos into their home.
The subterranean home includes a living room, three bedrooms, two full baths, a patio, and a hot tub. There is even a swimming pool – in-ground of course.
The property surrounded by security fence also includes 10 storage buildings and former barracks. There is an underground fallout shelter in at least one of the silos.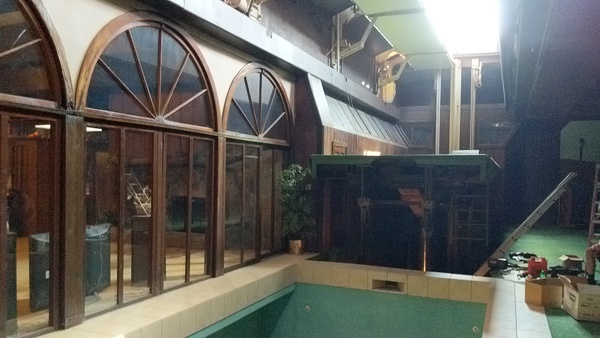 An elevator raises and lowers in the former missile silo converted into a private residence. Photo by Mike Perleberg, Eagle Country 99.3.
Knowles believes such a unique property will likely go to a unique buyer.
"The kind of buyer that is going to be interested in this place is somebody that just has everything – they think – but they want the one thing nobody else has. This is it," he says.
The listing agent believes it could be turned into a manufacturing site for a business in need of underground storage, or perhaps a paintball course.
Seriously interested buyers can contact Jay Knowles at Keller Williams Realty in Lawrenceburg, Indiana by calling (812) 577-2712 or emailing JayKnowles@KW.com.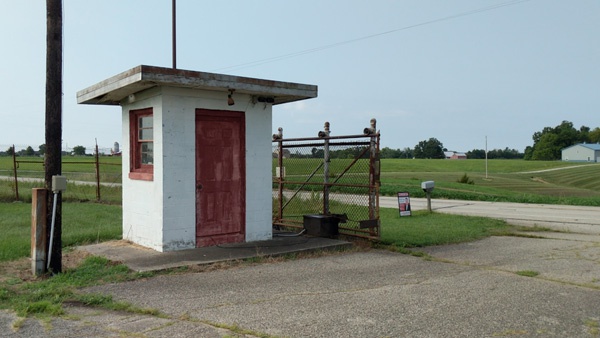 A guard shack at the entry to the missile base. Photo by Mike Perleberg, Eagle Country 99.3.