The Indiana Attorney General is accused of groping four women earlier this year.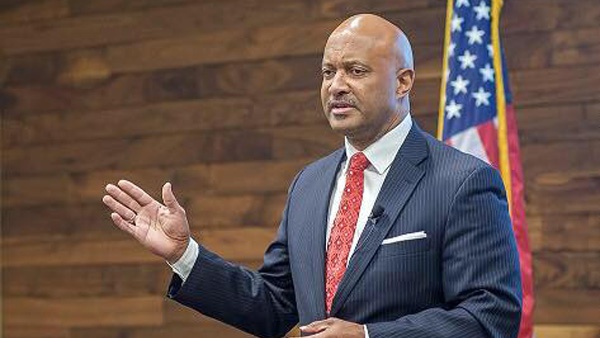 Indiana Attorney General Curtis Hill
(Indianapolis, Ind.) – Indiana legislators aren't likely to try to remove Attorney General Curtis Hill from office.
Hill is accused of drunkenly groping four women, including State Rep. Mara Candelaria Reardon, at a bar in Indianapolis last March. Those women are currently suing him.
A special prosecutor announced in October that criminal charges will not be filed against Hill. Dan Sigler said he believes the women's stories and Hill does not deny touching them, "but there's disagreement about the extent of it."
Republican House Speaker Brian Bosma (R-Indianapolis) says the attempt to remove Hill from office could take up a lot of time in the legislative session that begins in January. Bosma said he does expect some lawmakers to push for Hill's impeachment.
The speaker was among state leaders including Governor Eric Holcomb, Lt. Governor Suzanne Crouch, and Secretary of State Connie Lawson who have called on Hill to resign from office. Certainly, Democrats have also demanded he step down.
The AG has defiantly resisted any notion of resigning, or that he did anything inappropriate with his four female accusers.
New Senate Majority Leader Mark Messmer (R-Jasper) does not expect any legislative action to force Hill out.
Indiana's constitution allows for a "state officer" to be removed from office "for crime, incapacity or negligence." He could be impeached by the House and tried in the Senate, or if two-thirds of both houses were to vote in favor of a joint resolution removing him. However, there is the question of whether the Indiana Attorney General is a "state officer" because the position is not listed in the state constitution.
"If he's not been convicted of a felony, there's no real reason to move that issue forward," Messmer said. "Leave it up to the voters next election cycle."
Hill, who was elected Attorney General by Indiana voters in 2016, will be up for re-election in 2020.
RELATED STORIES:
State Rep., Three Other Women Plan To Sue Indiana AG Curtis Hill
Special Prosecutor Won't Charge Ind. AG Hill; Says Groping Allegations Too Difficult To Prove
AG Curtis Hill Investigation Gets Special Prosecutor
AG Hill Ups Game Against Groping Allegations
Curtis Hill Challenges Special Investigation Into Sexual Harassment Claims
GOP Legislative Assistant Comes Forward As Third Victim Of Curtis Hill's Alleged Harassment
AG Hill Unapologetic Amid Sexual Harassment Accusations
Attorney General To Speak On Groping Allegations Monday
Governor, Other Top Republicans Ask Attorney General To Resign
Indy Star: Attorney General Accused Of Touching 4 Women Inappropriately