Niki DaSilva claims she was sexually harassed by Indiana Attorney General Curtis Hill.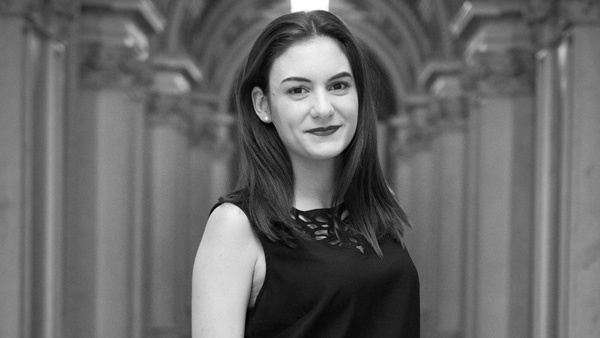 Niki DaSilva claims she was sexually harassed by Indiana Attorney General Curtis Hill. Photo by Michelle Silderberg.
(Indianapolis, Ind.) - A third woman is coming forward with allegations that Indiana Attorney General Curtis Hill sexually harassed her a few months ago.
Niki DaSilva, a legislative assistant for Senate Republicans, issued a statement Thursday sharing her experience with Hill at a post-legislative party held at an Indianapolis bar in March.
According to DaSilva, Hill approached her and some co-workers as they were waiting to order drinks at the bar. He allegedly said to them "Ah, come on ladies! You haven't figured out how to get a drink yet? You've got to show a little skin!"
DaSilva moved away. A few minutes later, she was approached again by Hill who, she says, put his hand on her back and began to slide it down toward her backside when she pushed his hand away.
"When our hands met, instead of taking this nudge as a cue to remove his hand from my lower back, he grabbed my hand and moved both of our hands over my butt, lingering there before releasing me," DaSilva said.
"He looked at me with a grin on his face."
DaSilva said she did not know Hill and had never spoken with him before. She confirmed what was said with those she was joined by at the bar.
Three other women have made similar allegations that Hill harassed them at that same party. Two others who came forward last week are Democratic State Representative Mara Candelaria Reardon and Senate Democratic communications director Gabrielle McLemore. A fourth woman has not been identified.
Hill called the accusations false and said he believes they may be part of a coordinated attack against him. In an email from the attorney general's office, Hill provided a copy of an email showing DaSilva coordinated her statement about the alleged offense.
DaSilva asks in the email "This is the final draft for my statement attached. Please let me know if there are any grammatical errors or phrases that need to be changed/strengthened/eliminated."
Hill said it is evidence that the investigation into his actions by Indiana Inspector General Lori Torres is compromised.
"The various stories appear to be coordinated and changed under the direction of others. We believe these emails could be material to an investigation. We would hope that any emails sent on state equipment between the accuser and others be preserved and not deleted," Hill said.
But DaSilva says she revealed herself as one of the alleged victims because Hill continues to deny the accusations. She also wants to assure Hoosiers that she and the other women are not part of a partisan "witch hunt."
"The inappropriate and inexcusable behaviors exhibited by Attorney General Hill were experienced by multiple women of both political parties, from both chambers and in varying positions within the Legislature," DaSilva said.
"Individually, our stories may cause doubt in some minds. However, when these stories are weaved together they stand as a strong testament to a deliberate pattern of unacceptable behavior."
Indiana Governor Eric Holcomb and legislative leaders from both parties have called for Hill to resign from office.
RELATED STORIES:
AG Hill Unapologetic Amid Sexual Harassment Accusations
Attorney General To Speak On Groping Allegations Monday
Governor, Other Top Republicans Ask Attorney General To Resign
Indy Star: Attorney General Accused Of Touching 4 Women Inappropriately