Tanners Creek swelled and reached several homes in Guilford early Sunday morning.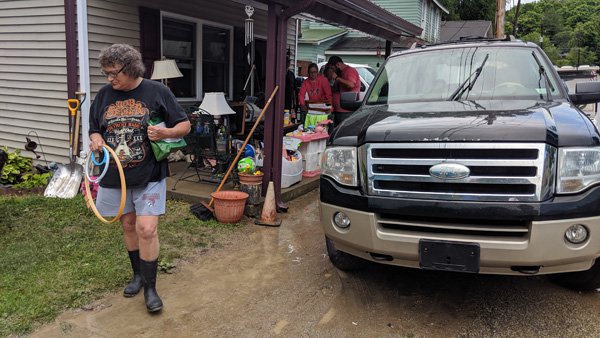 Robin Volz (left) and family clean out their home in Guilford following dangerous flash flooding early Sunday morning, June 17. Photo by Mike Perleberg, Eagle Country 99.3.
(Guilford, Ind.) - Heavy rainfall and flash flooding early Sunday morning created a dangerous situation for some local families.
The National Weather Service says local rain reports for a 24-hour period between Saturday morning and Sunday morning ranged from 1.3 inches in Florence up to 4.6 inches in Bright. Most communities had reports of two to three inches of rain, still a large amount for just one day.
The deluge overnight Saturday into Sunday caused flash flooding of Tanners Creek, which reached into homes in the Dearborn County village of Guilford. A water rescue was needed for one of the homes closest to the creek.
"I just thought my sump pump wasn't working. I was listening to the rain until I heard the screams," said Traci Knowles, a mother of five.
Those screams were from a neighbor who was wading through the flooded street in the early morning hours, shouting warnings to others as the creek quickly rose.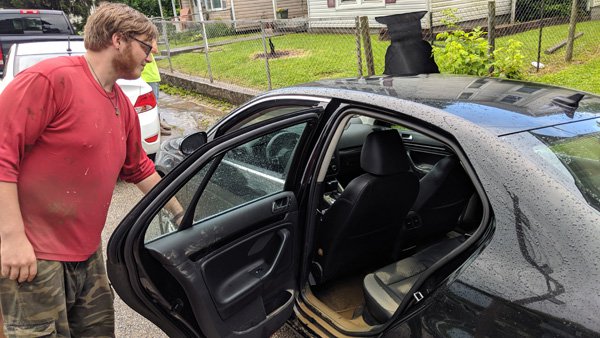 Traci Knowles' son shows flood damage done to his vehicle, which he purchased just a few weeks earlier. Photo by Mike Perleberg, Eagle Country 99.3.
"We were asleep and somebody – one of the people in town – hollered and woke us up and said that it was flooded. By the time we got out of bed it was already in our house. So it came up really fast," shared Robin Volz, who lives across the street from Knowles.
Volz and relatives wore rubber boots as they cleaned destroyed carpet and furniture from the home Sunday afternoon. She has lived in Guilford for 30 years and says Sunday morning's flash flooding was the worst she had seen in town since 1997 or 1998.
Elsewhere, heavy rain caused part of State Road 62 between Dillsboro and Friendship to be overtaken by high water. A flooded Laughery Creek also put a damper on some of the NMLRA Spring Shoot and Friendship Flea Market activities Sunday.
With more rain in the forecast, a Flood Warning remains in effect for Dearborn, Ripley, Boone, and Hamilton counties until late Monday afternoon. A Flash Flood Watch is in effect for the entire tri-state area through Tuesday evening as another two to three inches of rain is possible, according to the National Weather Service.
Those Saturday night and Sunday morning storms also spawned several tornadoes across Indiana. Areas that were hit included Rush, Union, and Fayette counties. No injuries have been reported, but thousands were without power Sunday.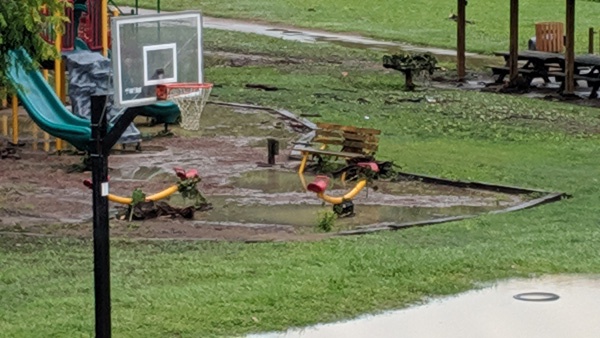 Flooding of Tanners Creek made a muddy mess of Guilford Covered Bridge Park. It is at least the second time this year the park has been impacted by a flood. Photo by Mike Perleberg, Eagle Country 99.3.