A pair of combative Lawrenceburg city meetings sandwiched an impromptu presentation by the Lawrenceburg Municipal Utilities' attorney.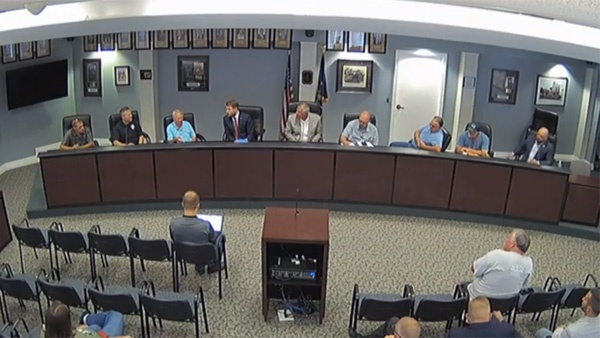 City of Lawrenceburg video still.
Correction: An earlier version of this story stated the attorney was Clawson's personal attorney. The attorney was actually representing LMU, according to Clawson. The below story has been corrected.
(Lawrenceburg, Ind.) - A very large, very expensive tent will be allowed to remain up at the Lawrenceburg Fairgrounds following a very loud, very contentious meeting of city boards Friday.
The Lawrenceburg Parks Board voted 4-1 Friday to allow the tent to be semi-permanently located on city property. It will only ever be able to be deconstructed in the future with Lawrenceburg Common Council's approval.
The tent's permanent installation is already mostly complete by the time the parks board had the opportunity to vote Friday.
Parks board member and city councilman Tony Abbott, who has raised issue with LMU's spending of the $70,000 tent, was the lone vote against the tent's installation. Abbott said he would rather see the tent sold off so it won't cost the city any more money.
"I don't want to put another dime into it," he said.
City attorney Del Weldon said the tent will become city property as a building on city land. The parks board will decide who can use it and for what purpose.
The tent is one of multiple allegations of unapproved spending by Lawrenceburg Municipal Utilities and its director, Olin Clawson. It was a very contentious meeting Friday as LMU's attorney criticized Weldon and Lawrenceburg Mayor Kelly Mollaun of not being transparent.
Earlier last week, Weldon gave his legal opinion to city council that the city should not pay a $1.3 million invoice to LMU for relocating a utility pole. Weldon has also alleged that more than $10 million in cash reserves at LMU have gone missing.
In a Lawrenceburg Board of Works meeting preceding the parks board meeting Friday, attorney David McGimpsey got into a verbal spat with Mollaun and Weldon as he wished to address the allegations against Clawson and LMU.
"Not proper time or place to make statement," Weldon said, as McGimpsey repeatedly countered from the podium.
The BOW meeting was adjourned by Mollaun, but McGimpsey remained in the room to tell citizens in attendance what he had planned to tell the BOW.
"The facts in (Weldon's) legal opinion are wrong," said McGimpsey, saying citizens only got one side of the story on the utility pole matter and the state of LMU's finances.
McGimpsey said Weldon was well aware of the mounting costs of the pole relocation at Fourth and Front streets this year. He was present for meetings where the project was discussed.
"He has personal knowledge of all this stuff," said McGimpsey. "City records clearly indicate that $400,000 is the floor."
McGimpsey said Weldon's allegation of $10.1 million in LMU cash reserves disappearing is also false and a misrepresentation of financial analyses by Reedy Financial Group and Baker Tilly. What had shown up as $10.1 million in cash reserves at the start of 2018 has since been invested in capital assets, startup costs for the city's new fiberoptic high-speed internet service, and paying down debt, McGimpsey said.
After the meetings concluded, Clawson told Eagle Country 99.3 he believes Weldon is attempting to discredit him. Clawson said in a defamation lawsuit he has filed against Tanners Creek fly ash whistleblower Matt Miles, he accuses Weldon of illegally signing off on the release of his city employment file through a public records request fulfilled by the Lawrenceburg Clerk-Treasurer's office.
Asked about that allegation by Clawson, Weldon provided the following emailed response:
"I don't know how to comment on these items, they aren't supported by any facts. A quick search of Olin's case with Matt Miles shows that we are not even mentioned. Remember this is also the case where many Lawrenceburg citizens were issued legally questionable subpoenas and they have filed to have those thrown out by the judge. That hearing is October 3 at 2pm in Dearborn Superior Court No. 1. Also, all employee personnel files are public records. If someone requests any employee's file, we must release it by law.
As for the speech his lawyer gave, I never heard or saw any facts that relate at all to the evidence of improper spending that we presented to the public. I hope the ratepayers of Lawrenceburg aren't paying for Olin to have lawyers come to town and make speeches for him. That would be improper as well.
This all appears to be an attempt to distract everyone from very serious questions about evidence of improper financial activity by Mr. Clawson. The facts speak for themselves. They aren't an opinion, they are verifiable facts. The $1.3m bill was illegally presented for payment and clearly shows improper charges. The cash reserves at LMU electric have gone from about $10.1m to about $688k since January 2018. Add these to the almost $700k that we show was spent on the rodeo last year and these actions are alarming and must be investigated. That is what we are doing. There are other serious allegations against Mr. Clawson that we are looking into and cannot comment on at this time.
We will continue to work hard to protect the people of the City of Lawrenceburg."
Part of the transparency that McGimpsey had demanded from the BOW, Mollaun and Weldon were communications from the Indiana State Board of Accounts regarding the $1.3 million LMU invoice to the Lawrenceburg Utility Service Board for the utility pole relocation project in question. Weldon shared the following September 3 email message from SBOA Director of Audit Services Todd Caldwell to city accountant Brittany Doller:
"I spoke briefly with (Lawrenceburg Clerk-Treasurer) Richard (Richardson) at the Ideas Summit in French Lick last week. He asked about having a meeting with SBOA and part of the reason may have involved this situation. On the surface and without reviewing any specific documentation related to the project, we aren't aware of a statutory authority for the utility to charge the city in the manner you describe. Our recommendation would be to get the written legal opinion from an attorney as how the City could/should proceed."
Weldon prepared such an opinion and delivered it to Lawrenceburg Common Council last week.
RELATED STORIES:
$1.3M For A Utility Pole Unleashes Firestorm Between L'burg Administration, Utility Director