An investigation into how a project to move one utility pole turned into a $1.3 million invoice from Lawrenceburg Municipal Utilities to the city has led to accusations of unapproved spending by the utility.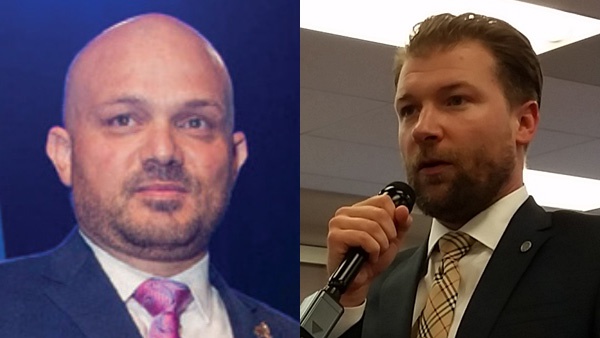 Lawrenceburg Municipal Utilities director Olin Clawson (left) and city attorney Del Weldon.
(Lawrenceburg, Ind.) - After the city is handed a $1.3 million bill for a job to relocate a lone utility pole, Lawrenceburg's city attorney said that everyone should be very concerned about spending and finances at Lawrenceburg Municipal Utilities.
Del Weldon's statement was part of a heated exchange between he and LMU director Olin Clawson at the Tuesday, September 3 meeting of Lawrenceburg Common Council. There were allegations of possible mismanagement at the city-owned utility department which were met with a strong rebuke from Clawson.
"What you're seeing here is a hit job by Del Weldon on me for personal reasons… It's total crap," Clawson told council.
According to Weldon, the city in 2017 discussed on a project to widen a turn and relocate utilities at Fourth and Front streets. Multiple semi trucks had collided with a utility pole when making a turn at the corner. According to Clawson, city engineer Mike Clark refused to take the lead and put it out for bid by a private company, so LMU was asked and agreed to take on the project instead.
Mayor Kelly Mollaun's administration submitted an application for an Indiana Community Crossings grant to help with the costs. In that application, the cost was estimated the cost at $180,000.
The site work took place starting in March. But it soon became apparent there were mounting costs attributed to other utilities having infrastructure in the area.
Then came the big surprise. At the end of August, LMU submitted an invoice for nearly $1.33 million for the project – well over the initial estimate and even later warnings from Clawson about increasing costs.
Among the contentions with the invoice cited in Weldon's letter to council (PDF): $848,689 to outside vendors for linemen labor; $331,833 in materials; unrelated fiberoptic internet project costs; a fallen tree away from the site listed as a tree removal; and multiple utility poles and other equipment unrelated. About $228,827 in "admin fees" were listed on the bill, which Weldon said marked an approximate 40 percent markup.
There were also $147,464 in LMU wages marked as benefits added to the hourly wage the city already pays. Although he is a salaried employee, Weldon said, Clawson also submitted on the invoice 10 hours of personal overtime at a total cost of $2,100.
VIEW THE CITY COUNCIL MEETING BELOW
Clawson called Weldon's statement that the city pays the LMU employees' benefits a lie.
Mayor Mollaun told Clawson Tuesday that if he would have heard that the pole relocation would cost $1.3 million, he would have said "absolutely not."
"I think we all can agree that people would have asked questions," Mollaun said. "Not once was it ever brought up that it was going to be in excess of $1 million."
Clawson replied to the mayor that Clark should have led on the project and it should have been put out for bid.
"It probably would have come back at (over $1 million) and you guys would have said at that point 'Let's not do it.' It just seems real funny that after the project is done and after we work our tails off to do what we think we're being asked to do, then all of a sudden there's big problem."
"I don't have a problem with people doing the work. I have a problem with not knowing… This group up here (city council) should have the same problem," said Mollaun.
Weldon says the city administration consulted with the Indiana State Board of Accounts. Because money for the project was not previously appropriated by council, he advised the city not to pay the LMU invoice, lest it risk being subject to a taxpayer or ratepayer lawsuit. He made that recommendation to council, which was followed Tuesday.
Toward the end of the meeting, Seymour brought the issue up again, asking that council pay the invoice and make the utility company whole, but there was no vote. He said he remembers the funding being approved.
Mollaun commented Thursday that his responsibility is to protect taxpayer finances and question any bill that the city is asked to pay.
"This is a large amount of money that was originally estimated at approx $400k as late as June of 2019. I review every invoice that the city is asked to pay and if it seems out of line then I question it and get the details. There is no rubber stamp," he said.
This is not the only allegation of unapproved spending LMU and Clawson are facing. Spending on a large event tent has been questioned by members of council and the Lawrenceburg Utility Service Board, which oversees LMU.
Clawson counters that city administration was aware of the mounting costs
Clawson told Eagle Country 99.3 Wednesday that Weldon's comments were "reckless, unwarranted and unsupported by the facts."
"The Mayor and Mike Clark absolutely knew that this project was being constructed at their direction," said Clawson. "That I was never okay with the process or the way it was handled, and; despite my very pointed criticisms and requests for assistance, the Mayor never one time provided me with answers. Only ever asked when the project would be done."
Clawson provided a copy of a February 6 email he sent to the USB and the mayor in which he asserted it is the city's project and voiced his objections. He warned of "unexpected very high costs" related to the outside companies' – Centurylink, Comcast and others – infrastructure in the area impacted by the project.
"Is this project worth $400k-$500k? Perhaps, but Council should have been made aware of the potential costs first and not at a point where we're into deep to pull out," Clawson wrote in that email.
The mayor responded that he would address the matter with Clark, the city engineer.
Clawson is adamant that LMU was only doing work it was asked to do by Mollaun and city engineer Mike Clark.
Clawson claims Weldon's law firm, Pillar Law Group, was used to obtain easements which made the project possible, and could have declined to get the easements in order to stop the project. Those legal bills and the new engineered steel pole were paid for by the city, said Clawson.
"My question is—If there was so many obvious issues with this project, why didn't Mr. Weldon raise those issues on any day of any month, over the nearly a year and a half prior to last night's council meeting?... Obviously, if the project is illegitimate then that should apply to the project in its entirety. Not just a portion of it," Clawson tells Eagle Country 99.3.
Where is LMU's money going?
Weldon also told council members that a recent financial analysis of LMU found that the electric utility's cash balance was more than $10 million at the start of 2018, but by this past July 31 that balance had fallen to just $688,000.
"This is perhaps the most concerning part of this entire matter," said Weldon, noting that is a dangerously low cash reserve.
Weldon stated that an audit with the city's contracted accounting firms Reedy Financial Group and Baker Tilly deduced it is being put toward the fiber internet service project.
Clawson asked LMU accountant Collin Browning to speak on the state of the reserve account. Browning advised that there is about $600,000 in cash, but there is more than $4 million in account receivable on a loan to the fiber company plus other outstanding bills including $100,000 each for "a few more projects."
"I am saying that the electric utility doesn't have a problem," Clawson said.
Weldon said the city administration can find no record of voting to approve spending of that nature. Calling that activity "frighteningly dangerous", he added that utility rates may need to be raised to recover the cash that was spent.
Weldon's letter to council concluded that the administration hopes LMU will cooperate with an investigation by the Lawrenceburg Clerk-Treasurer's office and the city's accounting firms.
"It is concerning that this project, the tent construction, the rodeo, and the fiber internet project all seem to share in common a general lack of official voting, budgeting or reporting on spending. This should also be investigated further," Weldon stated.
But Clawson says the cash reserves have not been spent. "The electric utility is stable."
Council members and the mayor questioned the slow fiberoptic internet service sign-up rate – two or three new customers a day depending on who you ask – as the service currently has only about 40 subscribers by LMU's own admission.
"It's easy to criticize, but it's a major undertaking and we're doing a good job with it," Clawson explained, adding that such projects don't happen overnight.
About six customers are being hooked up to the fiber service each day, Clawson said.
Clawson also raised the matter of a lawsuit the utility is engaged in with its largest electric customer. Lawrenceburg Power LLC owns and operates the natural gas power plant located along U.S. 50 at State Road 48. The company filed lawsuit after the city council voted to raise rates on the category of customer which only included Lawrenceburg Power.
Clawson said the largest customer has not been paying its electric bill during the lawsuit, withholding about 80 percent of LMU's electric revenues.
"If we want to talk about actual risk to the utility, that's the only risk we have. That's the exposure," said Clawson.
RELATED STORIES: