The highway will be reduced to one lane in each direction July 12-17 so that a railroad crossing can be replaced.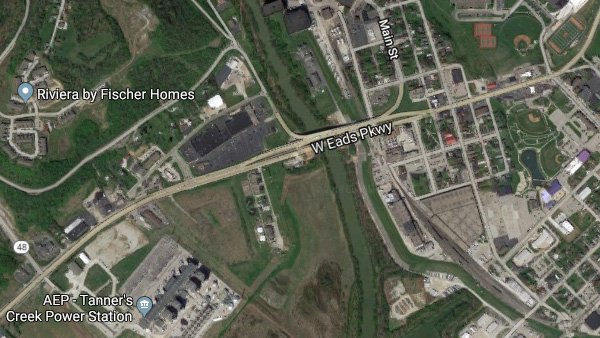 U.S. 50 in Lawrenceburg will be restricted to one lane each direction July 12 through 17. Image via Google Maps.
(Lawrenceburg, Ind.) - It will be a true Friday the 13th for commuters who travel U.S. 50 through the Lawrenceburg corridor.
Lengthy traffic backups are anticipated as U.S. 50 will be reduced to just one lane for each direction between State Road 48 and Walnut Street for six days, according to Indiana Department of Transportation spokesman Harry Maginity.
CSX Railroad will be replacing the railroad crossing in the eastbound lanes of U.S. 50 at Shipping Street in Lawrenceburg. The crossing, known to local motorists for its rough and rattling nature, is near the flood wall at Tanners Creek.
The lane restrictions will start Thursday, July 12 at noon. There will only be one lane of traffic permitted in each direction as the signage, pavement markings, and even signals are modified to prepare for the coming closure of the entire eastbound side.
Starting at 7:00 a.m. on Friday, July 13, both directions will be shifted to the Tanners Creek Flyover Bridge, which normally carries only westbound traffic.
INDOT says CSX crews will work around the clock on the railroad crossing until late in the day next Tuesday, July 17. According to Maginity, when the crossing is completed and pavement repairs have been made, the eastbound lanes will be reopened and contractor crews will return traffic striping, signals and signage to their normal configuration.
"As you might expect, INDOT anticipates significant disruptions to traffic. Lengthy traffic backups and commuting delays should be expected. We encourage you to plan for this in what ways you can," Maginity said.
Road signs have been up for a couple weeks warning locals about the upcoming lane restrictions. INDOT is also sending a letter to local businesses asking them to plan for the lane restrictions, notify customers, and arrange for deliveries where practical.