Governor Eric Holcomb did not use his veto power to stop a bias crimes bill which he didn't completely agree with.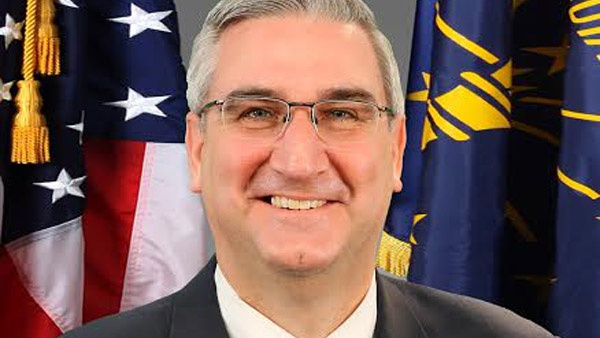 Indiana Governor Eric Holcomb
(Indianapolis, Ind.) - Indiana Governor Eric Holcomb signed a couple closely-watched bills into law Wednesday.
The hate crimes bill, Senate Bill 198, received the Republican governor's signature just a day after it received a final vote in the Senate.
"Our goal was to achieve a comprehensive law that protects those who are the targets of bias crimes, and we have accomplished just that," Holcomb said in a statement. "We have made progress and taken a strong stand against targeted violence. I am confident our judges will increase punishment for those who commit crimes motivated by bias under this law."
The law will allow Indiana judges to order harsher sentences for criminals who victimize people based on their bias against color, creed, disability, national origin, race, religion and sexual orientation.
"Indiana took a historic step forward today as the governor signed the bias crimes bill into law, which strengthens our reputation as a welcoming state for all. Lawmakers worked hard to craft legislation to protect all Hoosiers equally and leave no one out," commented Indiana House Speaker Brian Bosma (R-Indianapolis).
However, the bill does not include age, sex, or gender identity as specified characteristics or traits that can be considered by courts. Statehouse Democrats had urged Holcomb to veto the bill because they believe it was not all-inclusive.
"It's what he has insisted upon since this debate began. We have nearly four more weeks to get this done the right way. It's what the people of Indiana want and deserve," said House Minority Leader Phil GiaQuinta (D-Fort Wayne).
Another bill receiving Holcomb's signature Wednesday was House Bill 1005, which moves up the date for the Indiana Superintendent of Public Instruction to become an appointed position by the governor instead of one voted on by Hoosiers.
Instead of the first state superintendent appointment happening in 2025, it can now happen in 2021. Republican lawmakers were motivated to move the date up because current state superintendent, Republican Jennifer McCormick, said she will not run for re-election in 2020.
"For state education policy to be consistent and to have a unified approach, it's important for the governor and the education chief to be in sync – regardless of which party is in office," Bosma said. "Accelerating the start date for the appointment of the secretary of education is a commonsense move given the current superintendent's decision to not pursue another term."
GOP legislators pushed for eliminating the state superintendent position as an elected office after numerous policy differences between former Republican governor Mike Pence and Democratic superintendent Glenda Ritz created disruption during their terms in office.
RELATED STORIES:
Ind. Senate Signs Off On House's Amended Hate Crimes Bill; Governor To Sign
AUDIO: Frye Calls Amended Hate Crimes Bill A Good Compromise
Gov. Holcomb Backs House Adoption Of Hate Crimes Language; Democrats Critical
IN Research Suggests Hate Crime Laws Be Carefully Crafted
AUDIO: State Rep. Frye Won't Support Certain Form Of Hate Crimes Bill
Indiana Governor: Citizens Contact Legislators To Pass Specific Hate Crimes Law
Stripped Down Hate Crimes Bill Passes Indiana Senate
Against Governor's Wish, Ind. Senate Republicans Modify Hate Crimes Legislation
Hate Crimes Bill Passes Key Senate Committee
Gov. Holcomb Backs Hate Crime Legislation, Better Teacher Pay, SEI Port In 2019 State Of The State
AUDIO: Indiana House GOP Has Idea To Raise Teacher Pay; No Mention Of Hate Crimes Legislation In Priorities
Hate Crimes Bill, Port Due Diligence On Gov. Holcomb's Next Level Agenda
Indiana Study Committee Doesn't Recommend Hate Crimes Law
Ind. Private College Presidents Add Pressure On Lawmakers To Pass Hate Crime Law
After Synagogue Vandalism, Indiana Governor Calls For Hate Crime Law
Local Legislators Vote To Make State Schools Superintendent Appointed In 2021
GOP Bill Would Eliminate Election Of State Schools Leader Sooner