Holcomb's 30-minute speech touched on teacher salaries, workforce development, broadband access for rural areas, and a port project in Lawrenceburg.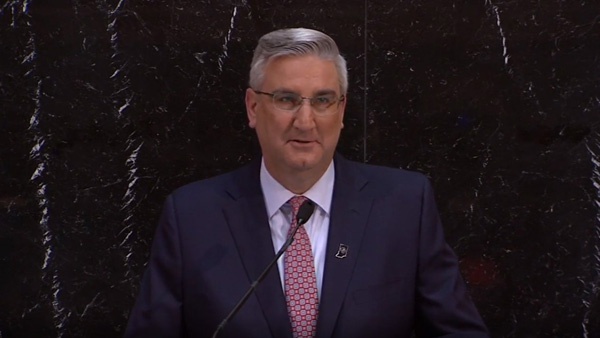 Indiana Governor Eric Holcomb delivers his 2019 State of the State address on Tuesday, January 15. Photo provided.
(Indianapolis, Ind.) - Governor Eric Holcomb used the bully pulpit of his State of the State address to renew his call for Indiana lawmakers to pass a hate crimes law.
"Indiana is one of five states that does not yet have a bias crimes law. It's time for us to move off that list," Holcomb declared to a statewide audience during his third State of the State.
"I look forward to working with the General Assembly to achieve this goal so that our state law reflects what's already in my administration's employment policy."
That was one of the focuses of Holcomb's third State of the State. Specifically, he says the state needs a law that brings enhanced charges against those fueled by biases over race, religion, and sexual orientation.
Holcomb also spoke to a joint session of the House and Senate about the need for education funding. He suggested that the state would pay-off the $140 million that local schools owe for teacher pensions, if local schools would then spend that money on teacher raises.
"Just like paying off your mortgage frees up money in your personal budget, this state investment will save all local schools $140 million over the biennium with continued savings thereafter," said Holcomb.
Combined with his proposed budget's four percent increase of $432 million more for K-12 education funding, the savings would result in $572 million new dollars for schools over the next two years.
He also announced the creation of the Next Level Teacher Pay Commission. The new board would identify resources that can be made available to make sure our teacher compensation is competitive with neighboring Midwestern states and ready to act on by the 2021 legislative session.
Advancing Indiana's workforce into the 21st century through his Next Level Jobs program was another theme through Holcomb's speech. He shared plans to double funding for the Employer Training Grant program encouraging businesses to hire and train adults and to expand the Workforce Ready Grant program with an aim on getting more adults to complete degrees or earn certificates in high-demand industries.
"In 2018, nearly 9,000 Hoosiers enrolled in Workforce Ready-eligible certificate programs. Another 17,000 who previously started college came back to finish their postsecondary educations," he said in highlighting the successes of such programs.
The governor briefly noted that the state is still pursuing a port on the Ohio River in southeastern Indiana, but offered no specific updates. Ports of Indiana has identified the former Tanner Creek Power Plant site in Lawrenceburg as the base for the big economic project.
Plenty of reaction poured in following Holcomb's speech. State Senator Chip Perfect (R-Lawrenceburg) says he is pleased the governor remains committed to developing a fourth port here. The Republican lawmaker was also glad Holcomb sees the need to expand access to broadband internet service in rural areas of Indiana.
"Additionally, I am happy to hear that providing high-speed internet access to unserved areas remains a priority for the governor, as over 41 percent of rural Indiana residents do not have access," Perfect said. "I am ready to work with my colleagues and Gov. Holcomb on these issues this session to help improve the Hoosier state."
The Indiana Forward campaign is lauding Holcomb for revoicing his support for Indiana to adopt a hate crimes law, which 45 other states have on the books.
"With bias crimes on the rise in Indiana and around the country, Gov. Holcomb's leadership on this issue should not go unnoticed," the coalition of businesses, colleges, faith-based groups, and others' statement read.
The Indiana Chamber of Commerce also welcomed Holcomb's message on bias crimes legislation, but the organization was disappointed that he did not give any mention to raising Indiana's tax on a pack of cigarettes or raising the age for purchasing tobacco products from 18 up to 21. The Chamber has called it a health and economics issue.
Indiana House Speaker Brian Bosma (R-Indianapolis) was receptive to Holcomb's idea to pay off the teacher pension liability of $140 million as a means of freeing up dollars for teacher pay increases.
"To elevate our state's most important profession for the future, we appreciate the governor's commitment to taking meaningful and substantive steps to put more dollars into teachers' pockets. While teacher salary decisions are made entirely at the local level, his call for the state to use reserves to pay off a pension liability that schools currently pay should help schools pass on about $140 million in savings over the next two years directly to teachers. This action coupled with several of our legislative priorities this session, are part of a short- and long-term goal to keep hardworking teachers in Indiana's classrooms," said Bosma.
House Minority Leader Phil GiaQuinta (D-Fort Wayne) said Holcomb is a fine speaker, but there is a point he needs to stop talking and start doing.
"We have seen and heard bold talk so far about the need to do something for our teachers, but the talk is not being matched by the legislation that is moving through the Indiana House," said Giaquinta. "Let's say it one more time: teachers do not need to have additional tax credits to buy supplies for their students, which is something their school corporations should be doing. Teachers need to be paid more. Now."