The Indiana Senate voted 33-16 on Tuesday to remove specific human characteristics from a hate crimes bill.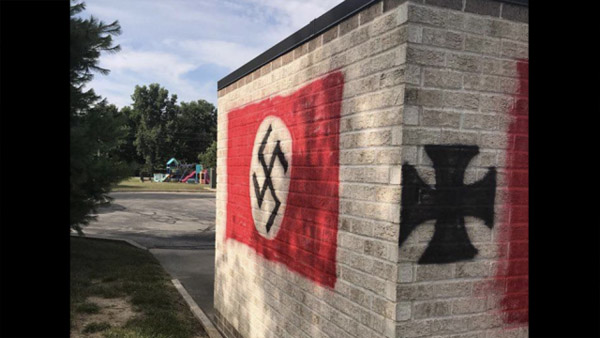 Nazi symbols were spray painted at a Carmel, Indiana synagogue in July 2018, leading Indiana Governor Eric Holcomb to call for passed of a bias crimes law. Photo by Debby Barton Grant, Facebook.
(Indianapolis, Ind.) - Indiana may not get a specific hate crime law after all.
The Indiana Senate voted 33-16 Tuesday to remove race, gender, sexual orientation and other human characteristics from the list of biases that can earn someone an enhanced sentence. Those specific protections had been included in Senate Bill 12 when it passed the Senate Public Policy Committee on a 9-1 vote Monday.
GOP senators instead amended the legislation to give Hoosier judges more broad latitude to consider all sorts of bias-based crimes.
Local senators voting Tuesday to remove the list of biases from the bill included Chip Perfect (R-Lawrenceburg), Jean Leising (R-Oldenburg), and Jeff Raatz (R-Richmond).
Since vandalism at a Carmel, Indiana synagogue last year, Governor Eric Holcomb has been advocating for Indiana to leave the short list of five states without a hate crimes law. He was not pleased with Tuesday's amendment to the bill.
"The version of the bill approved today by the Senate does not get Indiana off the list of states without a bias crime law," Holcomb said in a statement. "We have a long way to go, a lot of work to do, and fortunately the time yet still to do it. I will continue to fight for the right ultimate outcome for our state and citizens this year so we're not right back here in the same place next year."
We couldn't agree more with @GovHolcomb. The amended version of this bill does not get Indiana off the list of states without a hate crimes law. #INLegis pic.twitter.com/Hg6YenBjjR

— IN Senate Democrats (@INSenDems) February 19, 2019
Other advocates say SB 12 is little more than a shell of its former self. Indiana Forward, a coalition of Indiana businesses, non-profits, and colleges backing a hate crimes law, said the amended bill would not constitute a true bias crimes law.
"We will not let this be the finish line for Indiana's bias crimes legislation. Poll after poll indicates overwhelming support of Hoosiers for a strong effective and specific piece of legislation that protects all Hoosiers," said Indiana Forward co-chair David Sklar.
"We stand with Governor Holcomb in his unwavering support of a comprehensive bias crimes law with an enumerated list of characteristics that include: race, religion, color, sex, gender identity, disability, national origin, ancestry, sexual orientation, and age."
Indiana Democratic Party Chairman John Zody targeted Holcomb in a statement following the Senate vote, accusing him of lacking leadership.
"When he was needed most, Holcomb either lacked the influence in his own Party to get this over the goal line or vanished. Either way, Holcomb looks like a lightweight, unable to get the job done. Indiana Democrats will continue to fight until every Hoosier is protected safely and equally under Indiana law," Zody said.
SB 12 must still receive a vote by the full Senate before it can advance to the House of Representatives. All legislation must pass in either chamber by February 26 in order to continue consideration in the 2019 legislative session.
RELATED STORIES:
Hate Crimes Bill Passes Key Senate Committee
Gov. Holcomb Backs Hate Crime Legislation, Better Teacher Pay, SEI Port In 2019 State Of The State
AUDIO: Indiana House GOP Has Idea To Raise Teacher Pay; No Mention Of Hate Crimes Legislation In Priorities
Hate Crimes Bill, Port Due Diligence On Gov. Holcomb's Next Level Agenda
Indiana Study Committee Doesn't Recommend Hate Crimes Law
Ind. Private College Presidents Add Pressure On Lawmakers To Pass Hate Crime Law
After Synagogue Vandalism, Indiana Governor Calls For Hate Crime Law