A movement to create a hate crimes law in Indiana is gaining momentum at the Statehouse.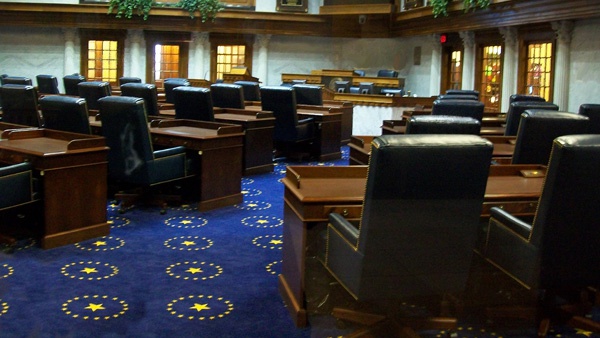 Indiana Senate. Photo by Charles Edward, Wikipedia.
(Indianapolis, Ind.) - A bill that would give Indiana a hate crimes law has passed a Senate committee.
The Senate Public Policy Committee passed Senate Bill 12 on a 9-1 vote Monday morning.
The bill would allow judges to hand down harsher sentences to criminals who victimize people on biases such as gender, race, religion, sexual orientation, and more.
Among those testifying in favor of the bill was Batesville-based Hillenbrand, Inc. senior vice president and chief human resources officer Glennis Williams.
"For Indiana to truly be a 'State that Works,' we must first be a state that welcomes," Williams told lawmakers, urging them to advance the bill.
Some testified against the bill. Micah Clark of the American Family Association, took issue with the idea of a hate crime.
"Victims deserve justice regardless of motive," he said. "Are other crimes committed of love and generosity?"
Governor Eric Holcomb has previously said a hate crimes law in Indiana is overdue – Indiana is one of just five states without such a law on the books. He began advocating for a hate crimes law following the vandalization of a Carmel, Indiana synagogue, which included spray-painted Nazi symbols.
Co-author State Senator Greg Taylor (D-Indianapolis) said he looks forward to seeing the bill progress further.
"I have been working to get a bias crimes proposal on the books in Indiana for six consecutive years now. This is a huge step forward for all those in Indiana who have ever been wrongly harmed or had their property vandalized due to the color of their skin, their religious affiliation or their sexual orientation," Taylor said in a statement Monday.
SB 12 is now bound for the full Senate. It must pass there by February 26 in order to go to the House.
RELATED STORIES:
Gov. Holcomb Backs Hate Crime Legislation, Better Teacher Pay, SEI Port In 2019 State Of The State
AUDIO: Indiana House GOP Has Idea To Raise Teacher Pay; No Mention Of Hate Crimes Legislation In Priorities
Hate Crimes Bill, Port Due Diligence On Gov. Holcomb's Next Level Agenda
Indiana Study Committee Doesn't Recommend Hate Crimes Law
Ind. Private College Presidents Add Pressure On Lawmakers To Pass Hate Crime Law
After Synagogue Vandalism, Indiana Governor Calls For Hate Crime Law