Gov. Holcomb is asking state lawmakers to pass a hate crime law in 2019.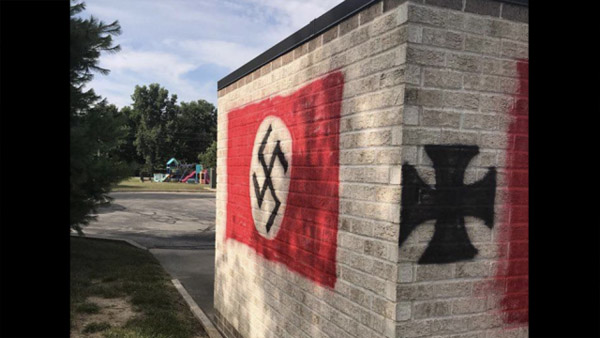 Photo by Debby Barton Grant, Facebook.
(Indianapolis, Ind.) - Indiana's governor is joining those calling for legislators to pass a law allowing harsher punishment for those who commit crime motivated by hate.
Gov. Eric Holcomb, a Republican, said Monday he wants lawmakers to pass a hate crime law. His call comes after someone spray-painted anti-Semitic graffiti at the Congregation Shaarey Tefillat synagogue in Carmel, Indiana this past weekend.
"No law can stop evil, but we should be clear that our state stands with the victims and their voices will not be silenced," Holcomb said in a statement. "For that reason it is my intent that we get something done this next legislative session, so Indiana can be 1 of 46 states with hate crimes legislation—and not 1 of 5 states without it."
Any shot at a hate crime law will have to wait until the Indiana General Assembly reconvenes for the 2019 lawmaking session in January.
In the meantime, the governor said he will be meeting with "lawmakers, legal minds, corporate leaders and citizens of all stripes who are seeking to find consensus on this issue so that, once and for all, we can move forward as a state."
Holcomb did not offer specifics on what he wants to see in such legislation. Generally, hate crime laws allow judges to impose tougher penalties on criminals who target victims because of their race, religion, sex, gender identity or sexual orientation.
A hate crime bill was filed during the 2018 legislative session, but it died in the Republican-dominated Indiana Senate in January after a lack of support.
Indiana House Minority Leader Terry Goodin (R-Austin) followed Holcomb's statement with his own, saying that talking about stopping hate crime is easier than actually doing something about it.
"The governor announcing his support is one thing. Getting the Republican majorities in both the House and Senate to act is another," Goodin said.
"To date, we have not seen that level of commitment. Hate crimes laws are introduced with great fanfare, only to die out when Republican lawmakers start dithering about lists and existing case law and all the things that make it easier to delay the discussion for another session."