The bill removes race, gender, sexual orientation and other human characteristics from the list of biases that can earn someone an enhanced sentence.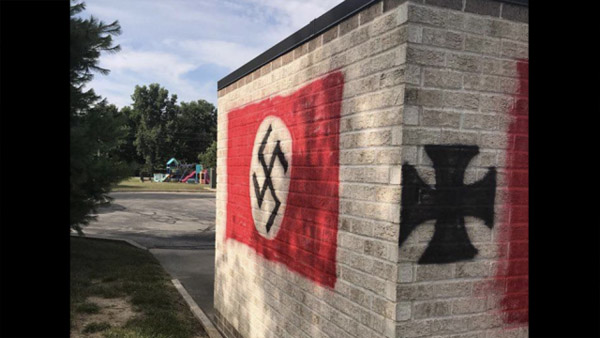 Nazi symbols were spray painted at a Carmel, Indiana synagogue in July 2018, leading Indiana Governor Eric Holcomb to call for passed of a bias crimes law. Photo by Debby Barton Grant, Facebook.
(Indianapolis, Ind.) – A stripped down version of a hate crimes law has passed through the Indiana Senate.
On Thursday, the Indiana Senate voted 39-10 in favor of Senate Bill 12. The bill removes race, gender, sexual orientation and other human characteristics from the list of biases that can earn someone an enhanced sentence.
Those specific protections had been included in the bill when it was passed the Senate Public Police Committee, but GOP senators amended the legislation to give Hoosier judges more broad latitude to consider all sorts of bias-based crimes.
Governor Eric Holcomb was not a fan of the decision to amend the bill, nor were bill authors Sen. Ron Alting (R-Lafayette) and Sen. Greg Taylor (D-Indianapolis), both of which voted against the bill on Thursday.
Local senators voting Thursday to remove the list of biases from the bill included Chip Perfect (R-Lawrenceburg), Jean Leising (R-Oldenburg), and Jeff Raatz (R-Richmond).
Republican State Senator Michael Young also voted in favor of the bill, but says he understands the other side's argument.
"I think we should be inclusive of everyone and I don't think the list gets there," Young said. "I can't speak for everyone on this side that they think the list gets here, they have their own, but for me the list isn't inclusive enough."
Democratic State Senator Tim Lanane says Indiana is falling behind other states by not including a list of affected groups on the hate crime legislation.
"We need to do more and by the way when you look at all the states that have passed hate crimes those 45 states, overwhelmingly they do include a list," said Lanane.
Other lawmakers said they voted for the proposal just to keep the possibility of a hate crimes bill alive, as Indiana remains one of five states that doesn't have specific hate crimes law.
Indiana Forward, a coalition of Indiana businesses, non-profits, and colleges backing a hate crimes law, shared their disapproval that the amended bill was passed by the Senate.
"It would be an understatement to say we are deeply dissatisfied in the passage of SB 12, a "bias crimes" bill that has absolutely no teeth. As thousands of prominent Hoosier business, education, civic and interfaith leaders and concerned citizens – including the Governor – have made it clear this week, this legislation is not a real bias crime law. Only with a comprehensive list of motivating factors – characteristics which every person possesses – can Indiana's bias crimes law give Indiana judges the precise and consistent policy direction they need to effectively deliver justice to the victims, their families and their communities."
Indiana Democratic Party Chairman John Zody targeted Senator Jim Merritt in a statement following the Senate vote.
"Today's vote sent a strong message to Indianapolis voters: when push comes to shove, Jim Merritt would rather stand with the out-of-touch views of his conservative allies than work to ensure that Indy welcomes all. For nearly three decades, Senator Jim Merritt opposed and killed hate crimes legislation. And in 2015, Merritt linked arms with Governor Mike Pence and supported RFRA legislation – the same legislation that did significant damage to the state and to Indianapolis. Four years later, it's clear Merritt is still more interested in being all things to all people, rather than fighting for equal protections for all Hoosiers. Senator Merritt is clumsily trying to serve three constituencies: his current Hamilton County constituents, the residents of Indianapolis, and the Senate Republican Caucus he heads up as Caucus Leader. And this week proved Merritt would rather vote with his caucus than his constituents."
SB 12 now moves to the House of Representatives. The bill must pass the House by February 26 in order to continue consideration in the 2019 legislative session.
RELATED STORIES:
Against Governor's Wish, Ind. Senate Republicans Modify Hate Crimes Legislation
Hate Crimes Bill Passes Key Senate Committee
Gov. Holcomb Backs Hate Crime Legislation, Better Teacher Pay, SEI Port In 2019 State Of The State
AUDIO: Indiana House GOP Has Idea To Raise Teacher Pay; No Mention Of Hate Crimes Legislation In Priorities
Hate Crimes Bill, Port Due Diligence On Gov. Holcomb's Next Level Agenda
Indiana Study Committee Doesn't Recommend Hate Crimes Law
Ind. Private College Presidents Add Pressure On Lawmakers To Pass Hate Crime Law
After Synagogue Vandalism, Indiana Governor Calls For Hate Crime Law