A Democratic lawmaker has submitted a request for an investigation into AG Curtis Hill.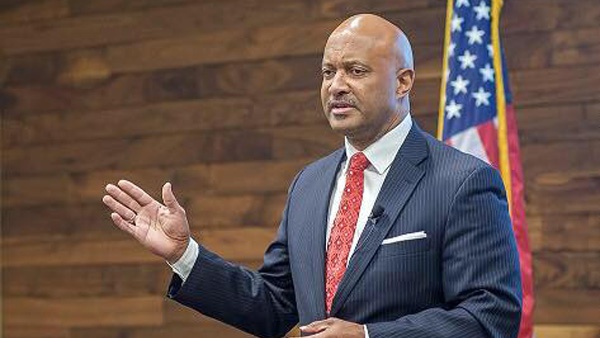 Indiana Attorney General Curtis Hill. Photo via Indiana Attorney General Facebook page.
(Indianapolis, Ind.) - A state lawmaker is calling for an investigation into the possible impeachment of Indiana Attorney General Curtis Hill.
State Rep. Ed DeLaney (R-Indianapolis) told The Associated Press that he submitted a request Thursday to have the House Judiciary Committee look into Hill's conduct and whether he should remain in office.
Hill is accused of groping four women at an Indianapolis bar in March 2018. State Rep. Mara Candelaria Reardon (D-Munster) and Democratic staffers have accused Hill of inappropriately touching them
However, Hill has vehemently denied the allegations. He has resisted calls to resign not just from Democrats, but also from Governor Eric Holcomb and other Statehouse GOP leaders.
A special prosecutor decided in October there was not enough evidence against Hill to pursue criminal charges.
Although Delaney has asked for an investigation, it doesn't appear it will gain much traction with the Republican legislative leaders at the Statehouse. Chairman of the judiciary committee, State Rep. Jerry Torr (R-Carmel), told the AP he would not excuse Hill's actions, but hinted that he may have trouble getting support of Republican convention delegates needed to be nominated for re-election in 2020.
RELATED STORIES:
Special Prosecutor Won't Charge Ind. AG Hill; Says Groping Allegations Too Difficult To Prove
Governor, Other Top Republicans Ask Attorney General To Resign
Indy Star: Attorney General Accused Of Touching 4 Women Inappropriately