Lawrenceburg's $10 million grant to Greensburg helped lure Honda to Indiana.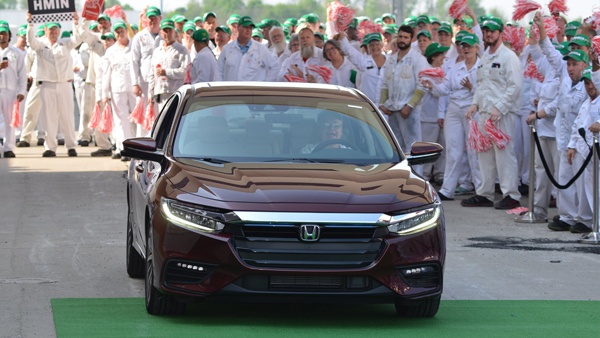 The first Honda Civic Sedan was produced at Honda Manufacturing of Indiana on October 9, 2008. HMIN photo.
(Greensburg, Ind.) - October 9 marked 10 years since the first Honda Civic rolled off the assembly line at Honda Manufacturing of Indiana in Greensburg.
The automaker celebrated the 10-year anniversary of its fourth U.S. plant on Tuesday. Company executives were joined by employees and state and local officials.
HMIN began production in 2008 with 1,000 associates churning out four-cylinder Honda Civic sedans.
Today, the company operates two shifts with more than 2,500 associates producing two best-selling models: Honda Civic Sedan and CR-V. The assembly line added the 2019 Honda Insight hybrid sedan earlier this year. Cumulative production will reach 1.8 million vehicles there annually.
"This milestone is the result of the commitment our Honda associates in Indiana have made every day over the past decade to build products of the highest quality for our customers," said Isao Matsuzaki, president at HMIN. "Indiana is our home and with the strong support of our local communities, the state and beyond, we are excited about our future here in Greensburg."
As we mark our 10-year anniversary, we look back at how it all began. #HMIN10 pic.twitter.com/MKLwQgObej

— Honda Mfg of Indiana (@HondaIndiana) October 10, 2018
HMIN purchased more than $2.2 billion in parts from 248 suppliers in the U.S. Sixty-four of those suppliers are located in Indiana.
"Since launching production a decade ago today, Honda has had a lasting positive impact on the city of Greensburg, the southeast region and the entire state, helping propel our workforce and strengthen Indiana's reputation as a manufacturing powerhouse," said Indiana Secretary of Commerce Jim Schellinger.
"With more than 290 Japanese business facilities in Indiana, we are proud of the friendships we have established with companies like Honda and look forward to even more milestones ahead. Congratulations on 10 years of excellence and thank you for your commitment to our state."
The auto plant's location in southeastern Indiana was made possible by a $10 million grant from the City of Lawrenceburg to Greensburg. That money was used to build infrastructure to support the facility.
RELATED STORIES:
Honda Will Begin Manufacturing New Insight Hybrid In Greensburg