Lawrenceburg Mayor Kelly Mollaun calls the allegations made at Monday's council meeting a "non-issue."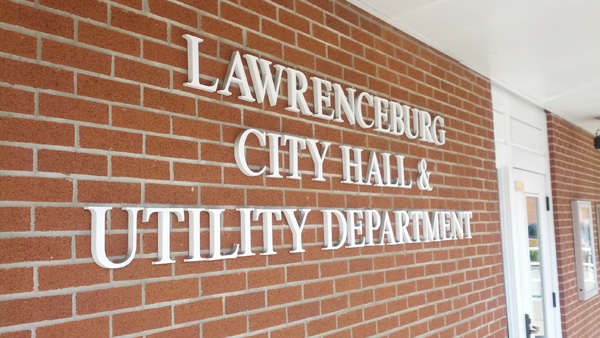 File photo
(Lawrenceburg, Ind.) – Lawrenceburg political tit-for-tat was on display at Monday's meeting of Lawrenceburg Common Council.
Mayor Kelly Mollaun's administration has been locked in a political war with Lawrenceburg Municipal Utilities director Olin Clawson. While tensions had been bubbling largely out of the public eye for a while, they have boiled over into outbursts and smears at recent city meetings.
At a public meeting earlier this month, city attorney Del Weldon provided council members with his opinion that the city should not pay a $1.3 million invoice for work LMU did to move a single utility pole. Weldon's letter also raised questions about a depletion of LMU's cash reserves. There have also been allegations that LMU has spent tens of thousands of dollars on a large event tent without the funding first being approved by the Lawrenceburg Utility Service Board.
Clawson has defended LMU's billing and financial standing. He told Eagle Country 99.3 last week that Weldon is attempting to discredit him.
On Monday, apparent retaliation came from Clawson and his supporters, as well as city councilman Aaron Cook, Mollaun's opponent in the November mayoral election.
During the meeting, Cook raised questions about a 2016 bill for the purchase of a grinder pump for Mollaun's new house built in the city that year. The bill totaled $4,000.
"For the past week and a half I've been getting these things that the city completely paid for it," Cook said.
Mollaun claimed the grinder pump bill was paid off, explaining that the money was deducted from his city paycheck until the balance was paid off.
"That's not exactly accurate," Clawson chimed in. He recalled that he told Mollaun he was not comfortable payroll deducting for the bill, but the mayor insisted.
"You're the only person that we've ever payroll deducted. I get several calls a year from people who have grinder pumps go out and would like some assistance with it and never get it, but that decision wasn't left to me. It wasn't paid for like you said it would be when the bill came due," Clawson claimed.
"My main question was, one, was it paid? I guess it is then. And my other question is do we do this for everybody?" asked Cook.
Mollaun quickly addressed the allegations.
"It's no secret that Mr. Clawson would say anything that he could up here to discredit me. I did build a new home in 2016 and I had the money to pay for it. He approached me. I'm not going to get into he said-she said. All I know is the bill is paid in full. Non-issue, but thank you for bringing it up Olin," stated the mayor.
Councilman Tony Abbott asked, but Cook declined to say who his source of the grinder pump bill was. Then former city councilman Mike Lawrence stood up in the back of the room and stated he had provided it to the current councilman.
Lawrence took to the podium later in the meeting, stating that the grinder pump bill was public record. He alleged that the payroll deduction arrangement was illegal payment in advance.
"Why should our mayor be special from me or any other resident? I think I've bought four of them grinder pumps," said Lawrence.
He asked Lawrenceburg Chief of Police Donnie Combs Jr. to contact the Indiana State Police to have them investigate the allegation of payment in advance.
Mayor Mollaun again dismissed any notion of wrongdoing in an emailed statement to Eagle Country 99.3 Tuesday.
"I was building my family home in 2016 and asked the utility director for a price on a grinder pump. He offered to deduct the cost from my payroll over twelve months and I accepted his offer. I made every payment and paid it off in full two years ago," Mollaun stated.
RELATED STORIES:
LMU Tent, Financial Allegations Break Down Into War Of Words
$1.3M For A Utility Pole Unleashes Firestorm Between L'burg Administration, Utility Director