Beginning today, public access to all Dearborn Co. public buildings will be opened and no appointments are necessary.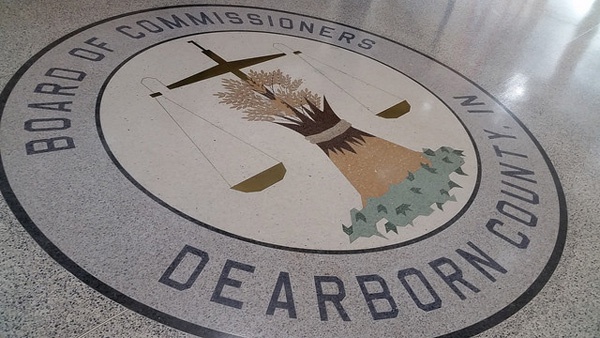 (Lawrenceburg, Ind.) – Dearborn County Board of Commissioners have issued a proclamation regarding local COVID-19 restrictions.
The proclamation, approved Tuesday morning, comes as Governor Holcomb's most recent executive order into effect today. The executive order lifts the statewide mask mandate and allows local governments to put restrictions in place that are more restrictive than current orders from the governor.
Beginning today, public access to all Dearborn County public buildings will be opened and no appointment or hearing will be required to enter any Dearborn County public buildings.
Citizens are still encouraged to only go to Dearborn County public buildings to conduct business that cannot be conducted by other means. Individuals entering Dearborn County public buildings will still be required to wear a mask and practice social distancing.
Businesses located in Dearborn County are strongly encouraged to require masks and to strictly enforce social distancing. However, the determination is left up to each individual business. Businesses may also operate at full capacity at this time.
Under the proclamation from Dearborn County Commissioners, social distancing of at least six feet between tables remains should remain in place at all restaurants and bars.
Health Officer Dr. Stephen Eliason and the County Board of Commissioners believe that restrictions can be loosened, but some should remain in place at this time to ensure that Dearborn County stays in the Blue level for COVID-19 spread.
If Dearborn County moves to Yellow, Orange, or Red levels the following requirements will be implemented:
Masks will be required in all businesses and at all public gatherings.
Social distancing will be strictly enforced.
Business capacities will be limited: Yellow = 80% capacity, Orange = 65% capacity, and Red = 50% capacity.
Social gatherings shall be limited to: Yellow = 250 people, Orange = 100 people, and Red = 50 people.
Regarding quarantine, fully vaccinated individuals are not required to quarantine because of "close contact" with a COVID-19 positive individual, while quarantine requirements will remain for those who have not been vaccinated.
All eligible Dearborn County residents are strongly encouraged to get themselves vaccinated as soon as possible. Currently, all Hoosiers 16 and older are eligible to be vaccinated.
Finally, the Dr. Eliason has been granted authority by the County Commissioners to take any and all steps to limit the spread of COVID-19.
The full Proclamation Regarding Governmental Operations can be viewed here.