The town has been without a public pool since the closure of Heap Memorial Pool in 2016.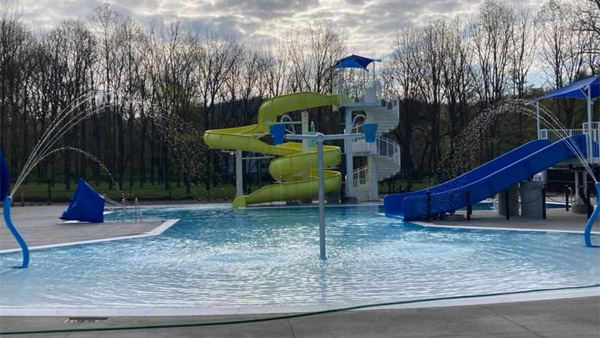 Photo via Town Aquatic Center Facebook page.
(Brookville, Ind.) – Brookville's brand-new Town Aquatic Center is almost finished.
Minor details are all that is left to finish before the pool is expected to open on Saturday, May 29.
A fundraiser was launched in November 2018 to help build a $2.468 million aquatic center. Fast forward to May of 2020 and the final cost for the project was approved at $3.7 million.
Construction has stayed on time as the original plan is to open in time for Memorial Day Weekend.
The opening of a new pool is a welcome sight in Brookville considering the nearly 60-year-old Heap Memorial Pool closed at the end of the 2016.
Earlier this month, town council finalized rates for the 2021 season. Passes will be available for purchase soon.
Check the Town Aquatic Center Facebook page for updates.
RELATED STORIES:
Fundraising Campaign Helps Bring $3.7 Million Aquatic Center To Brookville
Brookville Pool Fundraising Filling Up Fast, But More Support Needed
Report: New Brookville Pool Proposed For $2.4M
Non-Profit Could Help Raise Money For New Brookville Pool
Report: Brookville Pool Will Stay Closed In '17
Brookville Pool Decision To Be Made After Feasibility Study